Breaking it down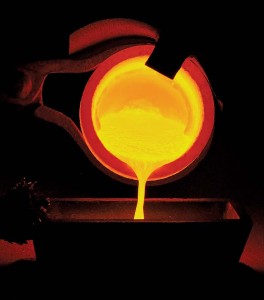 JVC executive director Phyllis Richard says the group has not received any recent consumer complaints regarding under-karated jewellery, but she is not surprised that it does happen.
"It's always been an issue in our industry; it's not that suddenly we're seeing more of it," she says.
"It's very hard to quantify how big a problem it is in Canada. In terms of our own manufacturing, we have a few big companies here, but there isn't a lot of it; they're not the problem."
Thelma Chuakay, managing director of Umicore Precious Metals Canada, says she's been asked by the Competition Bureau to explain the refining process and how fire assay works. She says refiners don't check whether metal submitted to them is under-karated. They simply receive the scrap, jewellery, or bars, for instance, do a fire assay, and produce a report based on the material's composition.
"It's not our responsibility to report that something is under-karated because we don't know where it came from," says Chuakay, who also serves as a JVC director. "Someone could have brought in bars that were made from jewellery, and who knows where they came from."
Duncan Parker, vice-president of Dupuis Fine Jewellery Auctioneers, says he's heard stories about under-karating in Canada and occasionally witnessed it when he was at Harold Weinstein.
"As far as I know, under-karating is not widespread, but it could be widespread because it's an unproven thing and we don't have an assay system in this country that is set out to verify the quantity of the proportion of gold in an item," he explains.
A scratch or acid test is generally the method of choice for appraisers or jewellers to determine the karat of a piece, although it is not exhaustive or 100 per cent accurate. However, if a metal is two carats out from what it's marked, these tests will show that.
"If it's less than two carats out, it's probably a judgment call and you may say 'Tested to be approximately 18-karat gold' [on the report]," Parker says. "However, you should be able to tell with a non-destructive test if it's two carats out. If it's one carat off, you probably can tell, but it's not going to be absolute."
Richard says regulations like the Precious Metals Marking Act are necessary to maintain consumer confidence. However, she is quick to add there is always room for improvement and proactive measures.
"If you're importing, you have to know who you're buying from," she says. "In any industry, everybody has to keep on top of things in order for things to run more smoothly and for consumers to retain the confidence we've been working so hard to build within the marketplace. Anything we can do to fortify that or contribute to that is very important for the health of our industry."