An attitude adjustment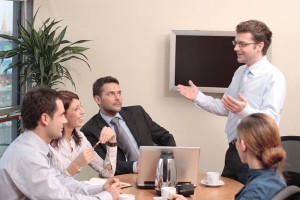 Here's the interesting part. My client didn't change any of the procedures already in place—he just approached them with his new-and-improved mindset, one filled with possibility, as opposed to limitations, fear, and negativity. Instead of just 'dealing' with customers, he took a vested interest in them, and reaped the benefits from building relationships. He also improved his time management skills, which allowed him to stay on track and up to date. And with more free time in his schedule, he easily fit in both one-on-one coaching for himself and group coaching for his team. Fear of hitting month end targets became a thing of the past, as daily, weekly, and monthly practices were put into place so that sales were generated and new business opportunities were tended to right away.
Each day, my client now steps into his office with his "Feeling Good" attitude and the positive vibes that Mondays stir in him. And as a result, I am thrilled to say the astounding results he had always pictured for himself are now a reality.
So how does this anecdote relate to your goal of creating a new reality in your jewellery store, specifically one that includes a productive staff, increased sales, and a stress-free environment?
Well, let's start at the beginning. Once you have realized dreaded complacency has set into your store, you very quickly understand that to revive your business, something drastic must happen. You decide to hire a coach for support, as you identify challenges and implement strategies to get you to your new reality, which is, of course, a thriving business. What follows are some challenges and strategies that are commonplace in the jewellery sector.
Challenge
It's likely you and your staff have been 'just going through the motions.' The zest once evident in your footsteps upon entering the store first thing Monday morning has long disappeared.
Solutions
Ask yourself the following questions every day as you walk through the doors of your store:
How do I want to 'show up' today? When you declare you want to show up feeling good, hopeful, eager, and driven, this becomes your mindset for the day. And it is this positive mindset—the impetus for success—that directly impacts your sales goals, interaction with customers, creativity, and drive to learn and grow.
What is my intention for the day? Do you want to just make a sale or create a truly unforgettable experience for your client that will bring them back time and time again? (Don't forget about the potential for word-of-mouth advertising that comes from a happy client.) Do you want to make that quick sale or take the time to get to know what it is they really want, but are perhaps too afraid to say? Do you want to build relationships with clients, turning even that 'walk in' customer into one that is loyal and long term?
What is my goal for the day? Was I better at reaching it than yesterday? Try something along the lines of, "I want every customer I serve to have an unforgettable experience and walk out with the purchase of their dreams." Then every day when you leave the store, do a 'check in' with yourself, asking whether you accomplished just that. Notice how quickly the right question can lead to positive changes.