A figment of your imagination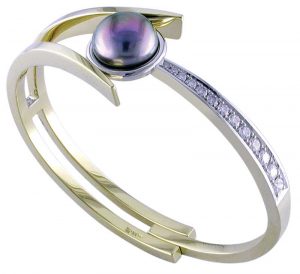 Designing a piece for a competition offers wonderful freedom of expression, taking you out of your normal sphere into the world of pure design for its own sake. Let your imagination run free!
All competitions come with rules, meaning there is no carte blanche on what you can design. However, these parameters can also give you scope to expand your personal boundaries.
Here are some pros and cons to consider when deciding to enter a competition:
Pros
As mentioned previously, the creative challenge in designing something outside of your day-to-day standard is a major bonus. You'll be stretching your mind and bench skills to achieve something new.
Design competitions are a major ego boost, mostly when you win, but not solely. It is thrilling to receive the accolades and appreciation of your peers in the jewellery industry.
Publicizing your win to your community and customers can increase your standing in their eyes. Clients like the fact your work is recognized nationally and internationally.
The winning piece can become the genesis of a whole new direction in your design strategy, inspiring ideas that can be scaled to suit your existing market or expanded into a new collection.
You will likely get exposure in both trade and consumer media, which is some of the best free advertising there is.
You can display your trophies or certificates of achievement in your shop, which lets your clients know how talented you are.
A few of the competitions offer a financial reward (e.g. cash or goods in kind) to sweeten the pot.
And lastly, you get personal satisfaction knowing your creativity has received recognition beyond your normal audience.
Cons
The investment in both time and money can be significant depending on the nature of the competition, tying up metal and gemstones, not to mention the cost of labour you'll incur. Fortunately, some competitions only require a hand-drawn sketch, computer render of a concept piece, or a photograph of the finished jewellery. In some cases, you never have to physically produce the actual design, as only the finalists or winning pieces need to be made.
Shipping and insurance can get expensive, especially since most competitions do not pay for return shipment. (And if they do, they often do not know how to ship internationally without the recipient being charged unnecessary taxes).
Depending on the competition deadline and length of time your jewellery will be tied up in the process, you may miss out on having it available during your prime selling season.
You can choose to sell your winning pieces and recoup that investment in short order; however, if the piece is particularly extravagant and expensive, it could take a long time to find a buyer. Or you may decide you would simply like to keep the piece in your collection and use it for marketing purposes.