Rules to design by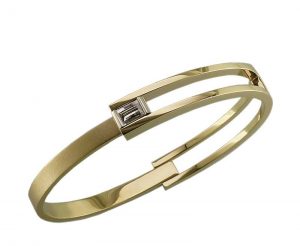 So, how does the whole competition thing work? First, you need to find out what contests are open to you. This can be tricky, since there isn't really a central clearing house listing them.
I cannot stress enough to read the rules when you enter a competition! These will tell you pretty much everything you need to know, including deadlines, the theme (if there is one), and materials you may use (or, in some cases, are not allowed to use). Many competitions have categories, either by price or by use (e.g. bridal, men's, or evening wear). Others specify a particular metal, such as silver or platinum, or are focused on a singular gemstone like pearls or diamonds. You also need to know what other materials you are permitted to incorporate.
Pay attention to who is sponsoring the competition. For instance, American Gem Trade Association's (AGTA's) Spectrum Awards is sponsored by members who are all coloured gemstone dealers. As such, there is an implicit expectation the piece will need to showcase coloured gemstones. The first time I entered the Spectrum Awards was very early in my career when my finances were modest at best. I submitted a yellow gold men's lapel pin, featuring a faceted piece of silver ore accented with fancy-colour diamonds. It was disqualified from judging because the silver ore was not considered a coloured gem and at that time—although this has now changed—neither were coloured diamonds. My only consolation was I sold the pin to one of the judges!
Wearability is often a criterion, although there are competitions that celebrate the avant-garde and demand entries expand the boundaries of traditional jewellery. Salability is another frequent requirement, especially in competitions sponsored by dealer organizations who want to use the winning collection to promote the things they sell.
Personally, I enjoy competitions that ask you to design within a theme. Coming up with an interpretation of a word or phrase can be challenging, but it can also narrow your focus. Since all the entries will share that basic premise, the resultant winning collection will have a satisfying cohesiveness.
Contests featuring categories of how or where a piece is worn (e.g. bridal, evening, or men's wear) can be a bit more difficult to pin down. One person's evening wear can be very different from another's, and depending on the 'business' someone is in, a piece could be very casual or quite extravagant. However, these themes are useful for the eventual promotion and advertising of the winning collection. Years ago, the Spectrum Awards used price as its categories, which helped avoid your beautiful, though great value, $500 amethyst jewellery from competing against a $50,000 Burmese unheated ruby design. When AGTA switched to 'purpose' categories, the intention was to encourage media (especially consumer press) to feature parts of the winning collection appealing to their particular target market. For instance, GQ Magazine would show men's jewellery winners, while Modern Bride could feature bridal winners.