Highlights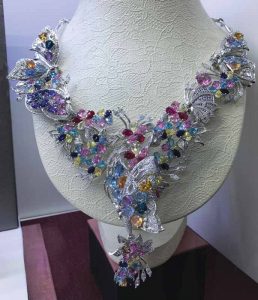 The 60th edition of the show was unique for several reasons. The opening ceremony was presided over by Princess Sirivannavari Nariratana, daughter of the present king. A jewellery and fashion designer in her own right, the princess displayed her collections at the show and oversaw the ribbon-cutting ceremony of her 'Sirivannavari Jewellery Showcase,' on display at BGJF.
Other additions to the show included the New Faces exhibition, with 50 booths offering intricate jewellery pieces crafted by smaller companies and designers.
A special section under the Talent Thai and Designers' Room also showcased various emerging designers and entrepreneurs in the jewellery and gem sector.
Returning from previous years, but in a modified form, was the Niche Showcase exhibition, which featured innovative designs of gems and jewellery in five emerging market categories across the globe. These included:
"The Moment," celebrating weddings, other special occasions, and anniversaries;
"MetroMen/LGBT," comprising a fairly fast-growing segment for refined masculine jewellery;
"Heritage and Craftsmanship," showcasing jewellery and artisanal crafts inspired by cultural roots;
"Spiritual Power," infusing religious and spiritual beliefs in adornment; and
"Beyond Jewellery," featuring bejewelled furniture and objets d'art.
The event also featured a series of seminars and consultation clinics conducted by industry professionals and design experts, plus onsite gem lab services from GIT, AIGS, and other gemmological institutes.
The World Ruby Contest
Co-organized and co-supported by GIT, AIGS, the Jewelry Trade Center (JTC), and the French Association of Gemmology, the goal of the World Ruby Contest is to promote, support, raise awareness of, and create an accurate understanding of ruby for people worldwide—both consumers and members of the trade. It is also a precursor to the World Ruby Forum that took place in Bangkok on November 4, following not long after the CIBJO conference.
"The World Ruby Forum aims to increase recognition of the value and beauty of the ruby, which is regarded as 'The King of Gems,' as well as to showcase the strength of Thailand's gemstone industry," said Duangkamol Jiambutr, the newly appointed director of GIT.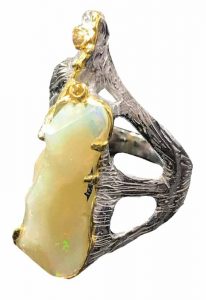 Judges for the World Ruby Contest included:
Wilawan Atichat, GIT advisor;
Chawalit Salwala, coloured stone expert and managing director of Thai Lapidary International Co.;
Victor Tuzlukov, renowned gem cutter;
Gail Brett Levine, executive director of U.S.-based National Association of Jewelry Appraisers (NAJA);
George Shen, director of the California Gemological Institute; and
Winnie Chen, chair of Guangdong Shining House.
The contest was organized into sections for natural unheated ruby and traditional heated ruby, with subcategories for gems in sizes of three to five carats, five to
10 carats, and more than 10 carats.
In the natural unheated ruby category, winners were:
Veerasak Gems Co. (three to five carats);
Gemburi Co. (five to 10 carats); and
K.V. Gems Co. (more than 10 carats).
Winners in the conventional heated ruby category were as follows:
Premiere Gems Co. (three to five carats);
Jack Abraham (five to 10 carats); and
Veerasak Gems Co. (more than 10 carats).