Increase in sales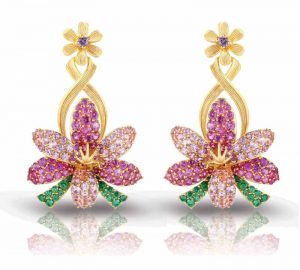 The 60th BGJF brought together 843 exhibitors, including producers, suppliers, and exporters from around Thailand and the world, who showcased their wares in more than 2100 booths. Among the overseas exhibitors were those from the United States, China, Japan, India, Sri Lanka, Iran, Israel, and the Association of Southeast Asian Nations (ASEAN). According to show organizers, the national pavilions enjoyed an increase of 18 per cent in exhibitor participation over the last show.
Organizers also indicated final trade attendance was about 16,000 visitors, who came from 130 nations around the world and helped generate nearly $74.9 million in sales—an increase of nearly 29 per cent over the previous show. The strongest export markets for Thai gems and jewellery are Switzerland, Hong Kong, and the United States.
Finished jewellery was offered at most booths and at all price points, types, and qualities. It ranged from high-end gold pieces set with diamonds and precious gemstones to silver and gem items to costume jewellery set with created gems. Booths offering loose diamonds, packaging, and machinery also attracted a large number of buyers.
However, the biggest percentage of exhibitors—and the leading growth sector in the Thai industry—fell under the coloured gemstone category, both domestic and foreign. These booths were also the ones that garnered the most attention. Stones ranged from large rough samples to faceted coloured gems of all kinds, including diamonds. Even the exotic melo melo and golden pearls from Myanmar were available, although at rather steep prices.
Among the many beautiful gems that attracted this author's attention was a rather unusual stone I had not seen before. Named the "Golden Sheen Sapphire" by Tanzim Khan of Bangkok-based gem dealer Genuine Gems and Jewellery, this unique sapphire was discovered in a remote—and undisclosed—area of Kenya near the Somali border in 2013.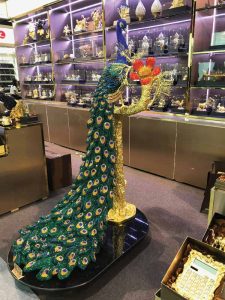 "As soon as I saw the stone," Khan said, "I knew there had to be a way to showcase its unique characteristics."
After trial and error, he succeeded in creating a series of facets and cabochons that bring out the gem's shimmering beauty. Khan was so impressed by this remarkable stone, he purchased the mine's entire production, which is now depleted. He stated the gem has been analyzed and confirmed as natural sapphire by several labs around the world, including the Gem and Jewelry Institute of Thailand (GIT), Asian Institute of Gemological Sciences (AIGS), Gemological Institute of America (GIA), Tokyo Gem Laboratory, and ARD Analytics. Khan also indicated there had been strong interest from some of the world's major jewellery brands in purchasing the stone—available in a range of sizes—for their collections.