By Kate Hubley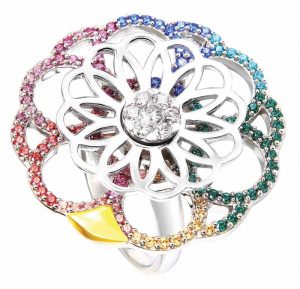 Inspired by everything around us, most jewellery designers keep a sketchbook on hand at all times. Ideas keep popping into our imaginations. Some are fleeting, while others stay with us and even inhabit our dreams. How many of us wake up in the wee hours and reach for a pencil and paper just so we don't forget that flash of inspiration?
An idea is one thing. However, bringing it to life through disciplined design is when the real creative process begins.
My wax is waning
I really dove into jewellery design with wax carving. I would have an idea in my mind's eye and start carving organically, changing details as I went along. I could do that because I could feel my way around wax with that mind-hand connection. Plus, wax is quite forgiving—you can always go back with a warm tip and fill in anything that didn't quite work. However, not every project was a success story, and many would end up shoved to the back of a drawer in my studio.
I could also just start over a few times until I got it right. As a matter of fact, I have even heard some very established bench jewellers say they include failure in their work plan in the event they have to start over—sometimes more than once.
In the past, I was fine with my namby-pamby mindset because jewellery design and fabrication was my "expensive hobby," not my career. Today, as I rifle through my drawer of a decade's worth of half-finished ideas, I realize I often skipped a crucial step: drawing and draughting. I call it the "thinking phase," for design is not simply a creative idea—it is also architecture, engineering, problem-solving, and innovation.
As the world-renowned, award-winning Canadian designer Reena Ahluwalia puts it: "Alongside creativity, originality, and skills, I believe a successful designer is a mix between an artist, thinker, inventor, engineer, visionary, and strategist."
Blurred lines
In a time-is-money world, no one can really afford to squander hours—and that includes me. I have also come to accept although I am pretty good at wax carving, my concepts are more sophisticated than my hand.
Therefore, like many of us, I turn to my CAD designer to help bring my concept to life. It is often faster, the work more precise, and the outcome more predictable. (I still wax carve quite a bit by hand, but it's more for exploration and mediation than production.)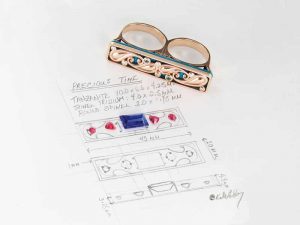 I have a very good working relationship with my favourite CAD designer. He understands my esthetic and often suggests details that improve the mechanics of the design. That said, I have come to rely on him to do some of my thinking for me.
Recently, I handed him a rudimentary sketch of a new design. I thought he was able to read my thoughts and interpret my grandiose arm gestures as I mimed the finer details of my concept to him.
When he showed me the 3D model of my design, I woefully admit I uttered the words: "That is not what I had in mind."
To that, he replied: "Well, your design is not logical."
That, according to Joseph Yabriydi of Montréal-based CAD design company Empire de Bijoux, is all too common.