Freehand rendering: Your lines of communication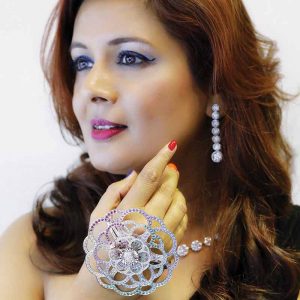 When you can pick up a piece of paper and pencil and sketch freehand in perspective, you instill trust, especially with a private client.
Rotenier explains, "They are vulnerable. They open up to you. You listen and bring their emotion to life before their very eyes."
In this case, you are more likely to close the deal. Ackermann adds you also have an easier dialogue with your CAD designer or any other outside resource you turn to, because you have been able to work out any design issues beforehand.
Not all designers outsource—or even use CAD at all
Claudio Pino is a Montréal-based fine art jewellery designer and goldsmith whose unique creations have starred in The Hunger Games and Stephen King's The Dark Tower. He creates one-of-a-kind sculptural rings, completing each step of the design, sketching, piece-by-piece hand construction, stone cutting, faceting, and setting processes in his studio. Upon seeing his crisp sketches and clean renderings, I asked him about the role of sketching in his work.
"Sketching is a very important step in my creative process. It is in fact essential! It is a way for me to explore different possibilities and ideas and do some research," he answered. "From concept to completion, each ring evokes new challenges while combining my desire for innovation and elegance. However, I don't need high-precision technical drawings, as I create only one-of-a-kind pieces, with hand fabrication techniques (no casting) and without subcontracting."
The learning curve
"You need to learn about curves, beauty lines, proportions, and colours," says Rémy Rotenier. "Otherwise, you'll get stuck in a cookie-cutter world."
I know the more disciplined time I dedicate to the sketching and technical draughting stage, the more elevated my designs will be. Whether it be Rotenier, Ackermann, or Brehmer, all those who teach jewellery illustration insist everyone can become very skilled. All you need is your imagination, your hand, paper, and a pencil—and regular practice.
TIPS AND RESOURCES
A wide variety of resources are available to help you in the design process, such as:
Les Ateliers online jewellery design program, created by Robert Ackermann and available at www.learnjewelrydesign.org;
Advanced Jewelry Design with Rémy Rotenier (DVD set);
Gemological Institute of America (GIA) education;
local art and design colleges and universities;
Jewelry Design by Maurice P. Galli, Dominique Rivière, and Fanfan Li;
Techniques of Jewelry Illustration and Color Rendering by Adolfo Mattiello; and
Jewelry Illustration by Dominique Audette.
Additionally, it is a good idea to keep a sketchpad with you at all times, and to take art classes that teach proportions, values, shadow, shading, and negative and positive space.
Kate Hubley is owner of Montréal design house K8 Jewelry Concepts Bijoux. She is also a Fellow of the Gemmological Association of Great Britain (FGA) and a 2015 Saul Bell Award recipient. Hubley can be reached at kate@k8jewelry.com.