Back to the drawing board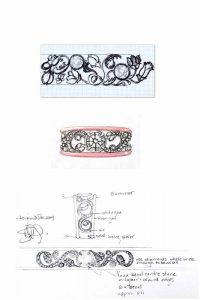 After my CAD designer clearly drew his red line,
I went back to my draughting table and reworked my plans, calculating and measuring to scale in order to get back into his good graces—and develop a more outstanding design.
What I had given my CAD designer was what world-class Canadian designer and goldsmith Shelly Purdy calls an  inspirational drawing," also known as a counter sketch. This is a crucial part of design, and one that comes naturally to jewellery designers. Purdy describes the process as thinking with her pencil, as her sketches flow automatically from her head to her hand.
Rémy Rotenier, a celebrated French jewellery designer now residing in New Mexico, is internationally acclaimed for his stunning lifelike illustrations and gouache renderings. He describes the drawing process as a personal organic relationship with design, where nothing separates you from your pencil and where the designs want to come to life because they want to exist.
As Rotenier describes it, "Like a little voice in the dark, they call out: 'draw me.'"
Technically, you need a blueprint
The free-flowing exploratory drawings Purdy discusses are very helpful to your CAD designer, but they are not enough. They are probably not enough for you either if you are doing your own fabrication. You need to develop a technical drawing—a blueprint, as it were.
"The inspirational sketch needs defining," explains Purdy. "That is when I tap into my architectural-draughting background to create my working drawings with technical details. Yes, it takes time, but also saves time in the end."
Being a goldsmith, Purdy also leverages her extensive knowledge of jewellery fabrication at the technical drawing stage to make key decisions based on tolerances such as wall thicknesses, prong height, and so on.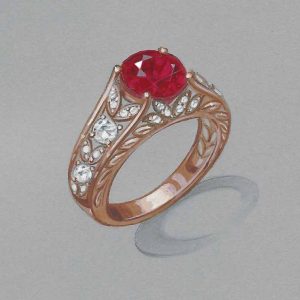 Ahluwalia, who is also a professor teaching in universities and design schools around the globe, underscores the need for detailed drawings.
She says, "After concept exploration, technical drawing is a great way to precisely detail out your design from all angles. To my jewellery students, I always say that each millimetre should be well considered. After all, you are dealing with diamonds, gemstones, and precious metals."
Robert Ackermann, a California-based, award-winning Swiss goldsmith, lecturer, and founder of Les Ateliers online jewellery design learning centre, also emphasizes the importance of understanding mechanical tolerances, using pavé as an example.
"You can't just draw tiny circles and say, 'There, that's pavé.' You have to understand how the hard stones and malleable metal work together," he says. "You have to lay out your work proportionately so you know if it can, indeed, be fabricated as you envision."