Looks good on paper…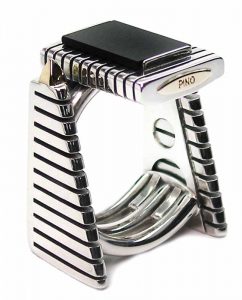 What about wearability? Elizabeth Brehmer, director of jewellery manufacturing arts (JMA) operations at the Gemological Institute of America (GIA), points out the institute's on-campus jewellery design curriculum includes a focus on mechanics and functionality.
"Students do not merely sketch out the elements of jewellery. They gain a clear understanding of how they work together and how a design will fit, feel, and lay on the human body,"  she says.
How comfortable is that ring? How will those earrings fall? How will that stone look from different angles? These are also vital considerations at the pre-CAD and pre-fabrication stages.
Owning your designs
After I sat down and spent the time needed to do my due diligence and produce more technical drawings, I also felt a greater sense of ownership over my designs. Ahluwalia eloquently affirms this sentiment of discipline and concept ownership.
"Each design I have ever created is a Reena Ahluwalia original and the design concepts are entirely developed by me. I personally create my blueprints (i.e. technical drawings) by hand," she explains. "By nature, I am super precise and pay high attention to details. I find this connection while creating intimate—each line letting me decide, fine-tune, and think deeply of the minute details and functionality of each piece. Of course, after my technical drawing and illustrations are done, it can go to the CAD stage, but not to start off with."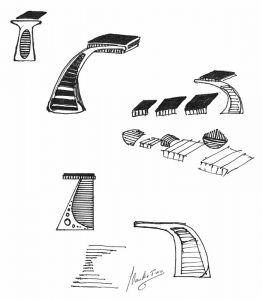 She also says, "Being a professor of technical drawing, this is an area that is very close to my heart. The field of jewellery is technical, so I feel that is a must-have skill for goldsmiths, designers, and jewellery artists."
Down to a fine art
The third form of design drawing is freehand illustrations in perspective and to scale. This is the art form that has earned Rotenier such widespread notoriety and love in the jewellery industry—and with his private clients.
Above and beyond the sheer beauty of freehand rendering, Rotenier says it gives you a better estimation of the materials needed to create the piece. It also lets you plan your work without all the surprises you may otherwise encounter, because—for all intents and purposes—the piece already exists.