Any diamond will do?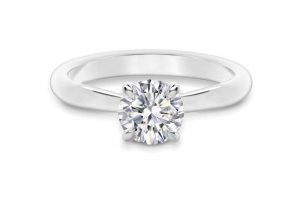 All together, these can lead to more sales and greater profitability. Yet, we know many sales are lost to the competition for a variety of reasons. In addition to the realities of the marketplace, you must understand the motivating factors for someone to buy a diamond and then uncover the hidden fears and barriers, and throughout, be working to provide them the experience they deserve and not just what they expect. What they expect, they can get from anyone. But what they deserve, they can only get from you. It is important to remember that and constantly seek ways to ensure it.
It is critical your staff know how to get to the core of the real reason someone has come into your store looking for diamonds. If it were just about buying a diamond—any diamond—they really don't need you, do they? They can get a diamond just about anywhere these days, including having one delivered to them while in their pajamas on the couch at home, eating a bowl of ice cream. Yet, the vast majority of consumers do not do that. No, they buy in stores like yours. In fact, De Beers Group just recently released its annual findings in its U.S. Diamond Acquisition Study. It found that in 2015, 82 per cent of those buying diamonds and diamond jewellery did so in brick-and-mortar stores. That should be encouraging to you because it also reflects an average ticket price 36 per cent higher than what is purchased online.
If there is such a vast and ready availability of diamonds in consumers' eyes, why do they continue to shop in stores like yours? Quite simply, it comes down to trust, selection, reputation, the ability to actually see and touch a diamond, fear of the unknown, reassurance, or guidance—all of these are real reasons. The point is something is missing in their search, and it is incumbent upon you to sift through their challenges and uncertainties. If it was simply about a transaction—just buying any diamond—they would have not come to see you.
Fully understand what is driving that customer into your store—i.e. what they are missing—and seek to fulfil their needs in the most basic of ways. First, remember that something significant is happening in their lives and they are choosing you to help them initiate, celebrate, or commemorate that special occasion. This is a key to your success—the more you bring them back to the real reason they are engaging with you on this quest, the more success you will have. It's a simple concept. Find ways to bring them back to that reason. Consider the following response to a customer who seems to know exactly what he wants:
"Wow! You have really done your homework. She must be really special for you to have spent that much time, effort, and energy searching for the perfect diamond to represent your love for her. In fact, you've made both our lives a lot easier (even though you know he has made it tougher for you) by narrowing your search. By the way, you are halfway to achieving the two most important things: First, you have made the effort to find the perfect diamond for your bride to be, and you are selecting it especially for her; second, the diamond you chose is the most beautiful one you could find. Congratulations and thank you for allowing me to help you on this final stretch."