A star-studded ring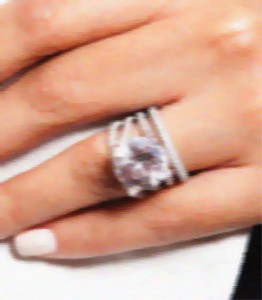 Pavé is not a favourite setting style of mine. I actually find it to be quite stressful, as there is no room for error. The stones are supposed to be set very close together and the prongs are always shared between two and sometimes three gems. If you add to this mix randomly sized or poorly cut stones, then pavé setting jobs can easily turn into nightmares.
Recently, a husband and wife came into our store looking to have a ring to mark their 10th wedding anniversary. When asked if they would care to see our selection, the woman declined, saying they had a picture of the ring they wanted made. Turns out they had been watching a red carpet event prior to the Academy Awards, and the husband happened to take that moment to ask his wife what she would like for their anniversary. On the television screen flashed an image of a reality star showing off her new 10-carat engagement ring. Pointing to the screen, the wife answered her husband by saying, "I wouldn't mind one of those."
The very next day, the couple came into our store and brought with them the image you see to the right. The husband had snapped a photo of the television screen using his phone's camera. The couple asked our sales associate if I could make a ring which would be similar in style, but with a smaller centre diamond and additional side stones. "Perhaps a four-carat diamond would do," they said. Not a problem, we said, and I got straight to work.
Estimating costs and profits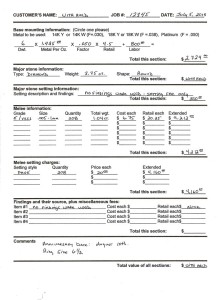 The most frequent questions I receive are always about estimating costs and making a profit. There is not space in this article to fully address this topic, but I would like to share a few things I've learned over the years. It's been my experience that a great many jewellers are unprofitable because they try to compensate for their lack of business skills by doing more volume. In my opinion, the absolute best practice is to do the opposite. In other words, reduce the amount of jewellery you make, stop discounting, increase quality, and maximize the profit from each job. In short, get organized.
Let's look at the estimate sheet to the left for our pavé diamond ring. Forms like this are a fantastic way to help you get organized. (For a copy of this sheet, check out this article in the issue's online edition.) At our store, we attach a copy of this form with every job file we do. It is also very helpful when updating appraisals. The more complicated the job, the more important the form.
I always begin an estimate by costing out the base mounting. Based on years of experience, I know the ring will weigh approximately 6 dwt of platinum. I record this on the form and then add the current cost-per-ounce for platinum, along with the 'factor,' which is indicated in parentheses on the sheet. Multiplying the 'factor' by the per-ounce cost gives you the metal's spot price per dwt. In the case of gold, factor accounts for the metal's karat. You can increase the factor you use if you want to consider what the metal supplier charges as its profit. Next, I add our store's retail markup. (This number has to be individually suited to your store.) Finally, I input labour costs to create the mounting. This number includes considerations such as time spent designing, casting the metal, finishing the piece, and assembly. At my shop, we charge $100 per hour for labour. I know that may seem high, but it is the same hourly rate my car mechanic charges. You should also know the lion's share of the labour charge goes to the store—I only wish I got it all.
Filling out the rest of the form is pretty straightforward when it comes to accounting for the retail value of the diamonds, findings, and setting fees. You should know that every item listed on the form has its own retail markup. We make a profit on everything. (I always recommend repair shops use their own findings and stones, as well as charge a reasonable markup on every item.)
In terms of stone-setting prices, it is very important for jewellers to know how long it takes to set stones. For this ring, I estimated setting five melee per hour, or $20 per stone (retail). I know it is possible to pavé-set faster than that, but speeding up the process only decreases quality, making it more likely a stone will fall out. On this, I refuse to compromise. I get these big jobs because my customers want quality. Using a form like this for every custom job and even complicated repairs can make it easy to account for your time and materials, helping your business be more profitable.