There's just got to be a better way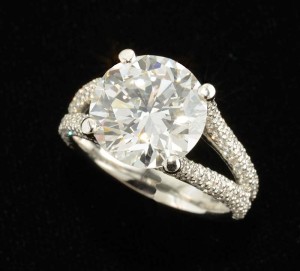 In preparation for setting the centre diamond, I used a pair of chain nose pliers to spread each prong slightly out. I did this because I wanted a nice round ball of a prong tip over the stone and I knew I would have to undercut the seat in order to protect the tip. I began with a 45-degree bearing bur and cut individual seats in each prong. I have never been a fan of using a bur the same size as the stone and cutting all four prongs at once. Every time I've done so, the setting was crooked. After I initially cut the seats, I placed the stone in the mounting and checked to see if it was level. Once satisfied, it was a simple matter of using my graver to change the seat's lower bearing angle so that it matched the diamond's profile. I could have used a 70-degree or a 90-degree bearing bur and made quick work of the job, but I wanted to ensure I did not over cut the seats. I prefer doing expensive jobs by hand.
Placing the prong tips onto the stone turned out to be more difficult than I expected. These prongs are 1.8 mm in diameter at their tips; I could not get a good grip on them with my parrot pliers and the hammer tool was not strong enough to move the metal. Finally, I had to resort to using a hammer and chisel with a shallow cup cut into its tip. This is not a recommended practice, especially on a stone of this value, but I was desperate.
The finished ring turned out to be a big hit. Making fine jewellery like this is a pleasure. This is what we as bench jewellers dream of, and I feel very fortunate to be able to create these kinds of pieces.
My next article will complete this series on creating custom jewellery and I saved the best for last. In the December issue, I will tell you about my rare opportunity to hand-fabricate a fantastic three-stone platinum ring. Please join me then and, as always, thank you for your e-mails and comments.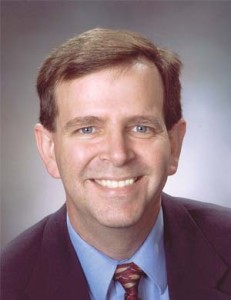 Tom Weishaar is a certified master bench jeweller (CMBJ) and has presented seminars on jewellery repair topics for Jewelers of America (JA). He is an award-winning columnist, picking up Silver at the Kenneth R. Wilson awards for his six-part series on stone-setting techniques. Weishaar can be contacted via e-mail at tsweishaar@gmail.com