Gold standard: How volatile gold prices make for tricky appraisals
May 1, 2016
By Gina D'Onofrio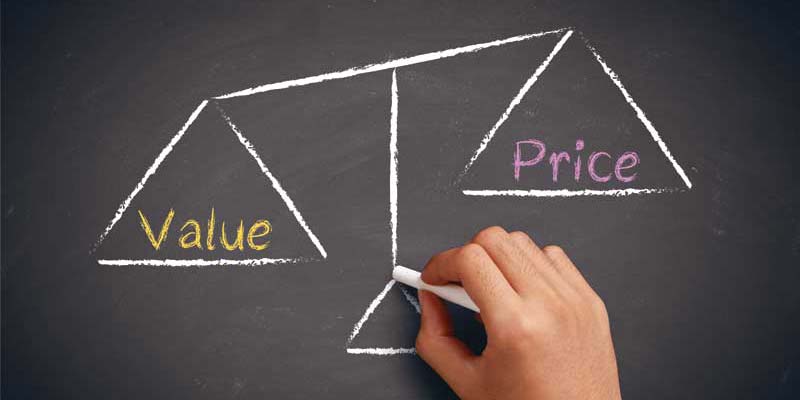 Gold prices spike, they fall, and then they plateau. You've heard the news, seen the graphs, and if you're a veteran appraiser, you've experienced déjà  vu countless times.
Think back to December 1978 when gold cost $207 per ounce (all prices U.S. dollars). By September 1980, it had spiked to $673 per ounce. Two years later,
it plummeted to $315. Fast forward 20 years to 2002 and gold hovered around $320. Next came the steady 10-year incline until the monthly average peaked at $1747.
In the last few years, gold prices have fallen substantially and are now steady around the $1100 to $1200 mark. That's much lower than the 2012 peak, but still four times more than what it cost in 2002. As such, appraisers need to understand and interpret how these fluctuations impact the jewellery trade and ultimately, the value of gold jewellery they appraise.
Buying gold in Canada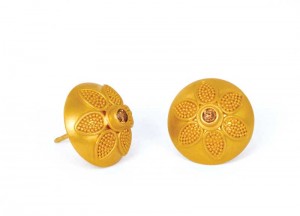 Just like any commodity, gold is traded in U.S. dollars, so the value of your local currency factors into the metal's price. Case in point, the average price for an ounce of gold in January 2012 was $1656, but Canadians paid $1678 after currency conversion. Compare that to the price in January 2016 when gold cost $1097, which converted to $1561 Cdn. Despite the fact gold had dropped by 44 per cent, it really hadn't changed so much when converted to Canadian dollars—a mere
7 per cent.
World economies not only determine currency exchange rates, but they also impact international supply and demand, affecting the price of gold. I'm not suggesting appraisers become economists, but it would be wise to develop an awareness of outside influences impacting the cost of gold and, ultimately, gold jewellery. World Gold Council (WGC) is a terrific resource. It publishes downloadable spreadsheets of gold prices in multiple currencies dating back to 1978. It also produces a quarterly publication reporting on gold demand, trends, and analysis.
Gold jewellery today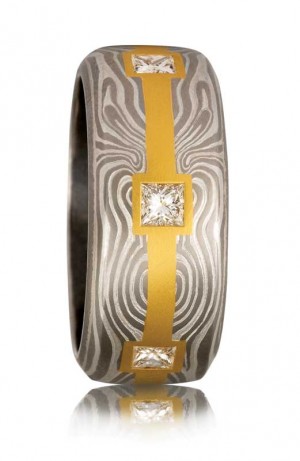 Fluctuating gold prices have had a dramatic effect on the design and production of new jewellery. Since 2005, gold prices have doubled, though the median household income has remained the same. In response, designers created jewellery to meet the same price points, but with significantly less gold content. Flip though any trade publication and you will find lightweight, openwork gold jewellery, and mixed metal designs, along with beaded and large gemstone-set jewellery with minimal gold mountings.
When appraising contemporary jewellery purchased prior to 2008, it can be hard to find an equivalent replacement today, since current designs no longer comprise the same gold content. Instead, you may need to consider vendors selling pre-owned jewellery for replacement value of a similar design.
Recently, I was asked to appraise a gold bracelet watch from Tiffany & Co. My client was settling an insurance claim and needed her 2008 appraisal—which had been prepared by Tiffany & Co.—updated to reflect the watch's current replacement value. The problem was Tiffany had stopped producing ladies' watches with gold link bracelets, so it could not be replaced with a current model. Due to skyrocketing gold prices, comparable models in the secondary market were selling for much more than my client paid in 2008. Ultimately, she agreed to settle with a comparable pre-owned watch in good condition signed Tiffany & Co.
Combined with the spike in gold value, the Great Recession sent the secondary jewellery market into a frenzy. A flood of uninformed and nefarious gold buyers appeared ready to turn a quick profit. Unfortunately, a great deal of signed and period jewellery was unwittingly scrapped and gone forever, thus reducing the supply of period and collectible jewellery. During this time, I was hired extensively to consult with people before they sold their gold jewellery and was able to rescue many signed and period pieces. As my colleague Carole Richbourg wrote in this column in the October 2015 issue, this is a service you can market to the public. Usually, it involves evaluating and sorting their gold, followed by a discussion where you educate the client on the merits of their jewellery before they find a buyer. It empowers your customer and prevents the demise of collectible jewellery.
Appraising gold jewellery in an erratic market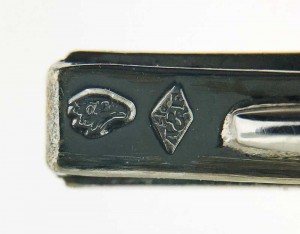 As with any other precious metal, appraisers must determine how much of a piece's value is in the gold and how much comes from other elements. Sometimes the value of gold is minimal when compared to the jewellery's collectible value. For example, an 18-karat gold and silver Georgian memento mori ring usually comprises less than 10 g of gold. The antique, rare, and collectible nature of this piece amounts to 90 per cent of its value. With that in mind, fluctuating gold prices do not impact this ring's value.
In contrast, a mass-produced 14-karat gold rope unsigned chain weighing 60 g is common and readily available. Here, the price of gold can often amount to 50 per cent of the chain's value, so fluctuating prices can greatly impact the replacement value.
Here is the process I follow to determine an item's value. I like to break it down into six easy parts: who, what, why, when, where, and how?
1) Who made it?
The maker or designer (or both) can impact the cost of producing a piece, along with perceived prestige and assurance of quality to the consumer. Further, internationally recognized brands can add significant value to the jewellery. As such, appraisers need to be aware of these brands, learn to recognize their trademarks, and be prepared to contact their vendors for pricing information. To learn more about appraising branded jewellery, refer to my article, "What's in a name?" in the May 2015 issue of Jewellery Business.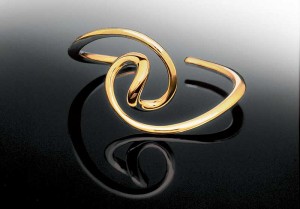 2) What type of gold is it?
Appraisers have several options for testing precious metals, with acid and electronic testing being the most popular.1 These methods are not foolproof, since they only test the surface, or with filing, just below the surface of a piece. As such, appraisers need to carefully examine the jewellery for signs it may be gold-plated lead or some other inexpensive metal. For confirmation, you may submit for advanced X-ray fluorescence (XRF) analysis. Gold assay offices usually have this equipment and conduct the test for a fee.
Look for stamps and hallmarks. Jewellery may be stamped with a series of marks, such as the metal fineness, the assay office, the maker's mark, and date letter. These can offer insight into the country of origin, the piece's age, and the designer, so you can determine the best source for similar jewellery and pricing. (Keep in mind the designer's signature can be different to the maker's mark.) Recognizing and understanding these marks require practice and good reference materials.2
You should also consider whether the metal is an uncommon gold alloy (e.g. 19-karat) or a colour that is difficult to attain, such as purple, which is more brittle and difficult to work with. Coloured metal is a clue that additional time or expense was involved in fabricating the piece.
Another point to consider is whether the jewellery is made from new or recycled gold. The answer to this is rarely obvious and appraisers should ask clients about how the piece was acquired. Often he or she will be proud to disclose their jewellery was remodelled from an older piece or whether it was purchased from a vendor that deals in ethically sourced gold.

3) Why consumers choose ethically sourced gold
More consumers these days are demanding transparency, sustainability, and ethical mining practices, and the industry is starting to respond. To meet this new demand, designers are recycling old gold, diamonds, and gemstones, and sometimes assembling jewellery from used or antique components. Manufacturers are also answering the call by sourcing their gold from companies with sustainable mining practices that include renewable energy, land restoration, proper disposal of hazardous waste, and pollution-reducing technology. When the gold is mined in developing countries, some companies have taken additional steps to improve the safety and well-being of their employees and families. Further, companies have taken additional steps to assure their buyers the sale of their gold neither funds armed conflict nor is associated with human rights violations. Supporting these assurances costs money, as does the marketing required to inform consumers of the story of how the gold used to fabricate the jewellery was sourced. This is a growing part of the industry appraisers need to consider.
4) When was it made?
Recognizing antique and period jewellery is well beyond the scope of this article. Suffice to say, appraisers need to fully understand the subject in order to recognize period jewellery. Once you have established the age of the piece, you need to determine if it adds to the gold's value.
Consider supply and demand. When there is an abundance of similar pieces in the market, the demand and subsequent value is lower. Trends also affect the value of a period piece. For example, small art deco bar brooches have fallen out of favour. As such, they are in abundance in the market and often sell for only a small percentage over gold value.
A piece's condition should also factor into your examination. Look for signs of damage, repairs, or alterations, such as a replaced catch or ear wire. Detachable components that are original to the piece can increase the value. Consider the pendant with a detachable, threaded pin-stem or a necklace with a removable tiara conversion. The original fitted box can also add to the jewellery's value.
To establish value, look for similar items in the market that would be an equally desirable substitute for quality, period, and design. Once you've found several examples, the most commonly occurring price will emerge. In appraisal theory, we refer to this as 'the mode.'
5) Where was it made?
Finished gold jewellery from European countries with higher-paid skilled labour (e.g. Germany or France) costs more to produce than those made in growing economies using makers who work for lower wages, though are not necessarily lesser skilled. Fineness marks and trademarks can indicate where a piece was made. For example, a gold bracelet stamped with an eagle's head and a lozenge-shape mark containing initials represent the French assay mark for 18-karat gold and the maker's mark.
6) How was it made?
The method of manufacture can make a huge difference to the value of gold jewellery. For example, processes such as granulation, anticlastic raising, hand-chasing, and Mokumé-gane are highly skilled and labour-intensive. Very few goldsmiths take the time and possess the patience required to create and finish jewellery incorporating these methods. Appraisers need to recognize the techniques employed and the quality of the workmanship so they can determine the labour costs and assess the overall design. My colleague Carole Richbourg covered this subject quite eloquently in the February 2016 issue of Jewellery Business. Also, for an in-depth explanation of manufacturing techniques, refer to The Complete Metalsmith: An Illustrated Handbook by Tim McCreight.
The price of gold is an important factor when appraising jewellery made with this metal, but it is only one part of the equation. Appraisers must have the knowledge and understanding required to recognize all the elements making up a piece's value. With that, they can determine the degree to which the fluctuating price of gold impacts the current value.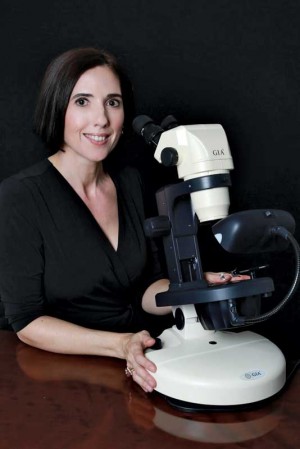 Gina D'Onofrio has provided gemmological and jewellery appraisal services since 1992. She is an accredited senior appraiser, master gemmologist appraiser (American Society of Appraisers) and certified senior member of National Association of Jewelry Appraisers. D'Onofrio is co-instructor for the American Society of Appraiser's GJ-202 appraisal report writing for insurance coverage class. She may be contacted via e-mail at ginajewels@gmail.com.
Source URL: https://www.jewellerybusiness.com/features/gold-standard-how-volatile-gold-prices-make-for-tricky-appraisals/
---