One ring with two approaches to value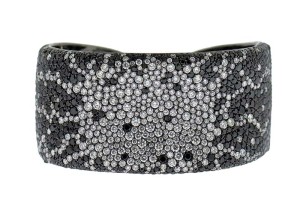 Consider the halo diamond engagement ring, which depending on where and how it was made, requires different approaches to value. Among bridal trends, the halo ring is incredibly popular, and subject to your client's preferences, may be sourced one of two ways.
The first is to commission a custom design job with a local jeweller. The ring may be designed and fabricated from a wax model and casting, or it may have been constructed entirely by hand. In either case, the cost to produce the ring as a 'one-off' piece is significantly more. Costs include the time spent communicating with the client, creating variations of the design via CAD or hand drawings, producing a wax model for client approval, and sometimes even a cast silver model. Beyond those factors, the jeweller also includes the cost of local casting, labour, and stone setting. If my client has commissioned a custom-made halo ring, the cost approach to value is the appropriate method of valuation. Sometimes a client can produce documentation, including renderings, diamond quality, type of fabrication, and quality of finish, which all affect the cost to reproduce the ring. When necessary (and with the client's permission) I may contact the local vendor or workshop to discuss their methods and pricing.
Meanwhile, a very similar halo design ring is being mass-produced locally or overseas, its melee diamonds set by hand after the ring is cast and polished. Alternatively, the melee diamonds may have been cast in-situ (i.e. set in the wax model and cast in place). This significantly reduces the setting costs, but can also impact the quality of finish and condition of the melee diamonds. By that I mean the melee can shift during casting, which means the beads do not completely set over the diamond. As a result, the settings can be loose and the raised beads can catch on clothing. The casting process can also scorch or chip melee. The quality of the mass-produced ring can vary greatly, depending on production methods, skill, and quality control. Needless to say, quality of finish (or lack thereof) is a value characteristic appraisers must consider when arriving at a replacement value. In my personal research, I have found mass-produced halo design semi-mounts can vary significantly in cost, relative to their quality and finish. Before deciding on replacement value, I use the market data to find halo design rings of similar design and quality.