Having some fun with research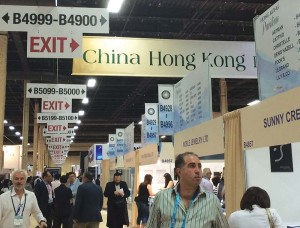 Why not try a little market survey among your localӬ jewellery stores. With their permission, walk through the store and ask how much jewellery they produce themselves, how much is purchased from local manufacturers, and how much comes from larger distributors importing semi-mounts or finished jewellery. You may be surprised at your findings. For instance, my local market stocks a large volume of jewellery produced abroad. In fact, one independent store regularly outsources their custom CAD/CAM designs to a company in China. Thanks to e-mail and Skype, the world is a much smaller place. Local businesses that survived the recession are finding new ways to turn a profit. Reducing labour costs makes it possible for them to sell jewellery at the same price points and still stay competitive.
Now, take your survey one step further and go to the source like a national jewellery trade show. I attend JCK Las Vegas every year. The international jewellery pavilions are vibrant places and half my time is spent visiting with manufacturers from Europe, Asia, and the Middle East. The remaining time is spent with diamond and gemstone suppliers, as well as national jewellery designers. I discovered that in order to keep prices competitive, many North American and European designers have shifted their production to Asia. This isn't 'breaking news' as some would say, but it does raise an interesting point regarding valuation, which is that the cost approach is no longer relevant for a great deal of jewellery. Instead, it has been replaced by the market data (sales comparison) approach. To get a grip on current jewellery prices, you need to get out from behind your desk and hit the pavement, so to speak. Yes, it's more work and requires more time and expense on your part. However, as an appraiser, this kind of research is in your job description. We determine the value of a piece, based on research—we don't 'make up' prices.

Let me be a complete jewellery geek and admit that I find researching jewellery prices fun. Yes! You get to travel, meet people from across the globe, and see lots of great (and not so great) jewellery designs. If you've established a good network with appraisers around the country, you might also consider comparing your findings to get an even better picture of the marketplace.
So what happens to the cost approach? Well, it is still relevant for locally made jewellery, especially custom-designed pieces. As such, stay in touch with your local manufacturers and workshops—they are a shrinking, but essential, part of our industry. Discuss their pricing and research the markups commonly applied to their pieces in the retail marketplace. In addition, subscribe to industry price sheets for diamonds, gemstones, and findings. At the end of the day, however, you will still need to research the market to verify your cost approach is up to date with local market prices. It's all part and parcel of being an appraiser. The good news is that it never gets dull and keeps you on your toes.

Gina D'Onofrio has provided gemmological and jewellery appraisal services since 1992. She is an accredited senior appraiser, master gemmologist appraiser (American Society of Appraisers) and certified senior member of National Association of Jewelry Appraisers. D'Onofrio is co-instructor for the American Society of Appraiser's GJ-202 appraisal report writing for insurance coverage class. She may be contacted via e-mail at ginajewels@gmail.com.