Come full circle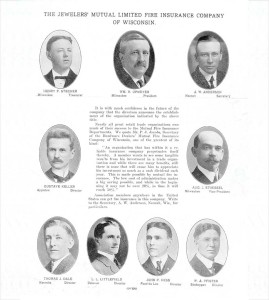 Enter Perfect Circle, Jewelers Mutual's branded personal jewellery insurance directed toward the consumer who has just picked up that Rolex they've always dreamed of or the gent about to pop the question with a sparkling diamond ring. In addition to settling claims for theft, breakage, or repair, Perfect Circle also covers mysterious disappearance, like say, unintentionally leaving a ring on a restroom counter.
Symbolic in name not only of a wedding band perhaps, Perfect Circle is meant to describe the circular relationship between a consumer and his or her jeweller, and the promise Jewelers Mutual makes to its clients to resolve a claim efficiently. It also puts the consumer back in the position they were when he or she purchased the watch or jewellery, and helps strengthen the trust between retailer and client. A cheque issued to both the claimant and the jeweller ensures the money goes toward a jewellery purchase, rather than a big-screen TV, for instance. This does the jeweller no good.
"The circle exists between the jeweller who sold the item, the consumer who bought it and had the loss, and back to us who will pay for the claim," Copeman says. "The consumer never sees a cheque, never deals with a claim's adjuster—that's all done in the background with the jeweller the customer trusted to purchase that item to begin with."
Although Jewelers Mutual has offered personal jewellery insurance since 1953, this was the first time it had branded one of its products, a project that involved the use of a marketing agency and focus groups. The goal was to develop a brand that conveyed a specific story to a potential buyer. After 18 months and scrutinizing over colours and logos for continuity, JM launched Perfect Circle. Not only could a retailer present the policy at point of sale, but branding also fit in with Jewelers Mutual's online marketing, helping the product to appeal directly to a consumer who might simply be running a Google search, for example. It was also a way to enter the social media arena more effectively, a must these days for every business, Copeman says.
"We thought it was important that we have a brand we could use across all the distribution channels, not just simply count on the retail jeweller to be the sole mechanism for distribution," he explains. "We stepped back and said, 'How do you do that?' And the answer was, 'You need to build a brand that resonates with people.'"
The tactic seems to be working. A peek at Perfect Circle's Facebook page shows it has just over 33,000 'likes.' Jewelers Mutual is also covering its social media bases with a LinkedIn page, as well as Twitter and Pinterest accounts. It sees all as a direct path to helping build tomorrow's client base, both for itself and jewellery retailers.