Partners in crime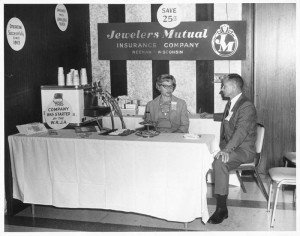 Jewelers Mutual's mission is not just to offer insurance protection when a loss occurs, but to also help keep them from happening. Preventing jewellery crime and empowering jewellers with information to help keep them safe is critical, particularly in Canada, which has seen an increase in armed robberies, says Patrick Drummond, the company's vice-president of sales and marketing.
"A lot of crime and loss prevention centres around making sure the retailer or salesperson follows the right procedures," Drummond explains. "You can't always prevent someone walking in with a weapon and robbing your store, but you can do everything you can to make yourself an unattractive target, and that means following those procedures. Ultimately, it's up to the jeweller to be proactive—nobody can prevent crime for them."
Collaboration with groups like Jewellers Vigilance Canada (JVC) is key, Drummond stresses. In fact, David Sexton, JM's vice-president of loss prevention (and Jewellery Business contributing writer), sits on JVC's board. Online courses at Jewelers Mutual's JM University, as well as presenting seminars at trade shows, are also tactics the company uses to get the word out on how not to be a victim.
"We have the financial capability to take care of any claim you have," Copeman says. "What I can't pay for is the trauma you experience when you've been robbed, abducted, or violated by having your store robbed."
Finger on the Canadian pulse
Although Jewelers Mutual currently has 500 to 600 retail clients in Canada, it is looking to expand its distribution in the Great White North. With only one broker here, plans are in the works to possibly add another in the western part of the country.
Recognizing there are differences between the United States and Canada, the company also relies on local expertise for a better understanding of those nuances. Partnering with the Canadian Jewellers Association (CJA) and JVC—both of which have signed exclusive agreements with the insurer—is one way it does that. The other is its Jewellers Advisory Council, which includes Canadians Susan Cartwright-Coates of Cartwright Jewelers and Yakup Tecimer of Tecimer Jewellery. The group is a sounding board for new products and a source of feedback on various related issues, such as how well an advertising campaign will resonate with retailers, Drummond says. Jewelers Mutual's executive team also looks to another Canuck for guidance.
As the first and only Canadian to sit on the company's board of directors, Alex Barcados of Toronto's C.D. Barcados Co., is Jewelers Mutual's go-to person when it comes to understanding the Canadian scene.
"Alex understands the regulatory environment, as well as the challenges associated with the most important reasons why we exist, and that is trying to better secure jewellers from the loss that is always out there from crime," Copeman says.
Just like other facets of the jewellery industry, building relationships is the bottom line for Jewelers Mutual, Drummond says.
"The voice of the customer is critical for Jewelers Mutual," he explains. "Our business is a relationship business—that's how jewellers have worked together and that's how Jewelers Mutual has come to be a 100-year-old company."
So what's in store for the next 100 years?
"It's very easy to look back and say, 'Job well done,'" Copeman says. "We're not sitting on our laurels. This is just a launching site for investing for the future in this organization. We've done a lot to support the jewellery industry over the last 100 years, and we've only just touched on some of the things we believe we can do and will continue to do."
Sounds just like the attitude of Jewelers Mutual's founders. In a way, you could say they've come full circle.