Budget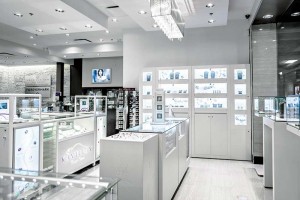 They say money talks, but that all depends on the conversation. One related to how much you're budgeting for your store's redesign can be tough, but Marcotte says there's no room for tiptoeing around it. The direct approach is best.
"A budget impacts everything we do," she says. "When we're looking at how to spend the money, we can do it in stages to meet a tighter budget. Or if the budget is tight, we design to that."
Neal Claassen, president and designer in chief of SoShowcases Schadebo, takes a slightly different approach. "If you don't have a budget, start with your wish list. Sketch out what you have in your wildest fantasy and always ask for the range of pricing. You see if people have sticker shock right away, but then you also start to understand where the design is going."
Inventory
Before you tear down walls and haul away furniture, think about the general focus of your business. In other words, what is your product mix? Do you show lots of inventory in displays, or just a few pieces? "That makes a huge difference in terms of showcases, not only in how many you have and where you're going to place them, but the kinds of displays you'll be able to use," Claassen says. "If you're a high-volume store, you'll need as much surface area as possible."
Understanding your customer base is also critical. Are you a high-end store? Middle of the road? "When there is no market research and only one jewellery store in the area, we will work with the client to find those answers," Marcotte explains. "We use this as a base, then we talk to the client about what styles they like and even what stores they like. From there, we help them visualize it and develop a concept."
The competition
Take note of what your competitors are doing. After all, part of your goal is to design a unique and memorable shopping environment. "You don't want your store to look like your competitor's," Marcotte says. "You have to develop your store's own personality. Also, be aware of competitors refreshing their stores. If you're not doing that, you could be falling behind. To keep up to date, you have to be on top of knowing your business and look at what everybody else is doing, and not just in jewellery. Competition hits you in the head if you're not careful. You might think your store looks great, so ask your customer their opinions. Put together a questionnaire every couple of years. A few questions from key and non-key customers will let you know if you're falling behind."
Shop-in-shop displays
In the last few years, big-name brands have made inroads into the Canadian market, and with them, shop-in-shops have become a fixture in many stores. So how do you create a space that not only conveys your store's personality, but also accommodates one, two, even three shop-in-shops that may or may not fit with the rest of the décor?
Claassen says it's not as hard as you might think. "You want to make sure you have a geographical area that is distinct from the rest of the store," he explains. "Trying to blend in a shop-in-shop often works against what you're trying to achieve. The whole point of having one is that you have an identifiable brand that draws people into the store."
Minagorri agrees, adding the goal is to create design elements between brands, such as vertical and horizontal frames that serve as a transition between where the traditional store ends and the shop-in-shop begins. "You give them their dedicated space that goes with the generic look of the store, but still allows the ability to brand strong with their colours and logos, and for people to know it's a shop-in-shop for that brand."
In some cases, you may be able to tweak the shop-in-shop's design to better match it to your own colour scheme. Just ask Andre, who worked with manufacturer Corona Jewellery to bring its display more in line with his store's redesigned décor.