Doodle me this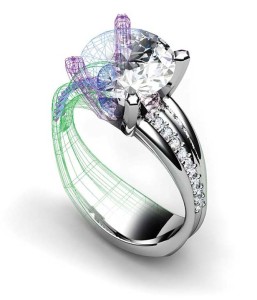 I have to doodle to get an idea and I've saved every sketch, which is a good thing. My first De Beers Diamond Award in 1987 was the result of an earlier idea for a necklace that I re-sketched into a scaled-down version, turning it into a bangle so that it made more of a statement.
Sketching is the fastest way to communicate a custom design, but it does have potential drawbacks. I can't help but wonder how many times a client has turned down my idea because they could not 'see' my 2D drawing as a 3D object? I could wonder the same about myself. Have I doodled the next big trend, but have been too busy (or lazy) to take the time to develop it by re-drawing it over and over into something great? With CAD, though, I find I do push the envelope.
Case in point. I am often a guest speaker at the annual Gemvision Design Symposium and my classes centre on designing. (Not to brag, but 'Creative Design Inspiration' is one of the more popular courses.) To prepare for this class, I take an idea and develop it using CAD. Taking an image from the system's library, I quickly design a pair of earrings, and this is where the fun begins. What if we scale it? Change the stones or metal? Add a halo around the gem or take one away? I have a ball creating examples to show in this class. In a short period, I have designed anywhere from 12 to 15 pairs of earrings. You can bet I have never sat down and sketched 15 variations of anything.
While exhibiting at the Canadian Jewellery Group (CJG) show in August, I visited with designer Lilian Jensen of Customgold in Vancouver. Like Beni, Lil has a very distinct style, which was at its best with a new collection of unusual banded agate pendants she had on display at her booth. As I was admiring them, she casually mentioned she had designed the pieces using CAD. "As a matter of fact, every piece we have here at the show was done in CAD," she said. So I asked her if she thought CAD helps her to be a better designer. "Absolutely," she said. "Seeing a piece onscreen and being able to rotate it 360 degrees helps with visualizing my thoughts. Then I can make improvements to the design to get the right flow."
Lil touches on an interesting point. For the most part, designing jewellery is a 2D process that results in a 3D object. While sketching a face-on view of a piece certainly provides enough detail to get an idea of the finished piece, without various sketches at different angles, it's a bit of a guessing game for your goldsmith to imagine what the back looks like, for instance.