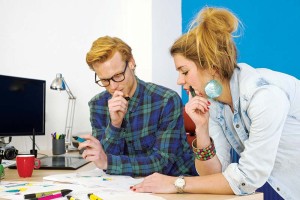 Shaun Staples works for me as a CAD/CAM trainer, but he also designs and was once commissioned to create an acorn pendant. Designed in CAD and cast in silver, the top of the pendant was so lifelike, it actually looked like Mother Nature's handy work. (Hard-carving the wax top would have resulted in much less detail.) Although an experienced hand engraver could have done better than the wax carver, it would have been too costly for the client. I posed the same question to Shaun that I did Lil. "Yes, it is difficult to convey a 2D pencil drawing as 3D without sketching many different angles," he explained. "Often, you give up because it takes too much time to get it right at a certain angle."
Jewellery Business bench tips columnist Llyn L. Strelau of Jewels by Design in Calgary has won many awards for his work. Llyn is often inspired to create intricate pieces reminiscent of designs made more than 100 years ago. He admits, though, he is not a draftsman. As such, he decided to learn to work with CAD when it first hit the jewellery scene. He says that by using design software, he is able to better communicate with his goldsmiths—it saves him time and there are no surprises. The good news for Llyn is he can still compete in design competitions, since contests often accept a CAD rendering in place of a sketch.
Mo Asgari of Toronto's Halo Jewellery Design says CAD set her on the path to being a jewellery designer. Growing up in the family business, Mo has had an interesting career working for auction houses and the Shopping Channel. Halo Jewellery has always offered custom work, but like other businesses, they farmed out many projects to CAD designers when the customer had a clear idea of what they wanted. Mo decided she wanted to take the business in a different direction and took on the challenge to master CAD. Now when I run into her, she shows me her latest designs on her smartphone. It has been so much fun watching her develop her skills as a designer (and she is one of the best at making matching wedding bands in CAD).
A word of caution
Of course, using CAD doesn't automatically make you a better designer if you don't have the technical know-how to back you up. Three-dimensional vision won't make much of a difference if the piece can't stand up to wear and tear. That said, CAD can help you develop an idea without the time-consuming task of sketching. It also allows you to work out all the details ahead of time for more accurate estimating, and not be limited by the skills of your goldsmiths or your own shortcomings with a pencil. I have to admit my first inclination will always be to put pencil to paper. And while it's true I have won many design awards thanks to my pencil, I have to say I've become a much better designer since I picked up CAD 15 years ago. Now if only I could find that million-dollar design among all my doodles!
Shele Letwin is president of GV Design Canada, the authorized Canadian distributor of Gemvision and Envision Tec products. She is a graduate of the jewellery arts program at George Brown College, an award-winning designer, and CAD/CAM instructor. Letwin is often a guest speaker at trade shows and at the Gemvision Design Symposium. She can be reached via e-mail at shele@gvdesigncanada.com or (866) 299-1702.