Premium and branded diamonds are the industry's darlings, but are they worth the cut?
February 1, 2013
By Diana Jarrett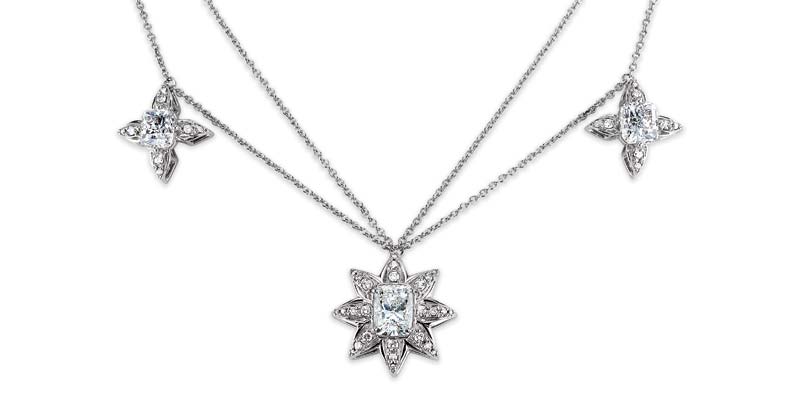 Faced with a competitive market, today's diamond merchants look to enhance the appeal of their goods and re-engage loyal clientele to add more sparklers to their collection.
A diamond is a colourless twinkling stone cut into different shapes, right? Sure, but there's more to consider. As the industry evolves, this explanation has given way to an amalgam of science and marketing aimed at keeping the momentum robust for these carbon wonders.
The evolution of sparkle
Nearly 100 years ago, diamond cutters thought they'd hit the jackpot in perfecting a formula for reaching a diamond's highest performance with Marcel Tolkowsky's brilliant cut. It was yet another step in the evolution of diamond cutting. Prior to that, the 58-facet 19th-century old European cut was the liveliest round stone out there, while the 18th-century favoured old mine cuts with 58 facets and a square-ish girdle.
The modern round brilliant cut, produced mostly after the Second World War, took sparkle one step further. Today's specimens sport a smaller to nearly non-existent culet, elongated lower-girdle facets, and a slightly larger table, increasing their brilliance.
The next phase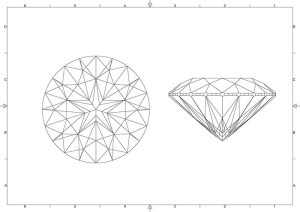 Today's diamantaires realize there is more to a diamond's draw than its sparkle, as high-end collectors add a couple more requirements to their short list when it comes to pricey stones. They may not always know what they want, but they certainly want to be offered options.
Tags like 'premium,' 'ideal,' 'excellent cut,' 'branded,' 'specialty cut,' and even 'patented cut' now populate marketing speak as a means to distinguish these stones. Let's review some of the terminology to get the lay of the land.
Premium diamonds indicate a superior make and, as the name implies, are supposed to perform better. They may also serve to show their owners are status-minded and can buy the best. Similarly, the use of the word 'ideal' signifies a diamond's cut, polish, proportions, and symmetry have reached the industry's ultimate parameters.
Branded cuts are premium—and sometimes patented—diamonds created to satisfy the desire for something special, a sparkling status symbol if you will.
Not always branded to a retailer or manufacturer, specialty cuts veer from their traditional counterparts in obvious or subtle ways like extra faceting or a unique outline, and may be identified to a cutter's individual style.
These distinctive darlings represent a thriving sector today as consumers are exposed to more of their marketing. Diamond cutters and merchants share with Jewellery Business what's involved in promoting these critical cuts.
Show 'em the facets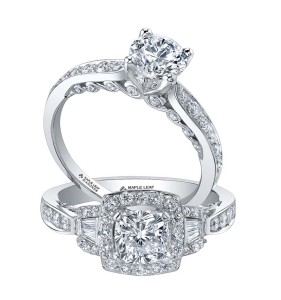 Something 'new' has different connotations for each diamond fan. While savvy collectors may arm themselves with brand names when they go shopping, others seek to be educated on what the latest evolution in diamonds can offer.
"When clients come in, most are looking for a diamond, and many are looking for one of Canadian origin, but not always a particular brand," says John Anderson, president of Davidson's Jewellers in Ottawa. "They may mention a certain diamond or ideal-cut brand they have heard about or seen in marketing campaigns, and we show them something comparable."
Norbert Brinkhaus, president of Brinkhaus Jewellers in Calgary and Vancouver, finds most sophisticated jewellery consumers seek out the latest to make a big splash. "They are looking for showy diamonds to [impress] others in social settings."
For these demanding customers, the issue of diamond performance is introduced into the sales presentation. Performance communicates the way in which a diamond handles light. In high-performing diamonds that are often cut to new standards of precision polishing and symmetry, the goal is for more scintillation and brilliance, or the ability to produce an outstanding sparkly effect. This can assist enormously with their sale. Consumers expect to pay more for high-performance stones, as they can ascertain the difference when comparing them side by side with standard round brilliant diamonds. A retailer with a broad customer base should consider providing a range of diamond goods and letting the client decide what they want. That keeps the client in their store, rather than going elsewhere to comparison shop.
Maarten de Witte, executive director of Saskatchewan-based Embee Diamonds, says shoppers may be quite happy to spend more to get a dramatic high-"¨performance diamond made to impress."¨"Today, most experts and consumers agree that slight nuances in polish, symmetry, and proportions—individually and collectively—have a noticeable effect on light performance," he explains. "Stones with excellent- or ideal-cut pedigrees from the Gemological Institute of America (GIA) and American Gem Society (AGS), respectively, are commonly regarded as setting the highest standards, and therefore command premium value."
Look here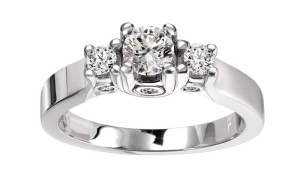 Proprietary gem instruments can assist consumers in viewing a premium branded diamond's special characteristics. When a client participates in a lab-like experience of looking at their stone through an instrument, they can see for themselves what the salesperson is describing, helping to validate how the diamond is different from others. In turn, it can help overcome indecision that plagues first-time diamond consumers who feel inadequate about making the right choice.
It's a tactic Anderson says he's put to use in his store's bridal area. "This seems to captivate people's attention, and demonstrate the uniqueness of these special cuts," he adds.
Special diamond-viewing devices rely on reflector technology to demonstrate a stone's unique traits, says James Caudill, designing engineer and co-inventor of an AGS proprietary tool for assessing diamond light interaction. Some are sleek and colourful, while others are more 'scientific' in appearance. "The resulting images are alluring and highly dramatic, and can bolster sales by instilling a sense of loyalty to a brand," Caudill finds. "Some brands have indeed been built around these types of images."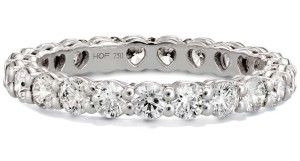 Since seeing is understanding with regard to premium and branded cuts, it seems consumers would need to experience them in person. But Amoro Fine Jewelry markets their branded diamonds exclusively online. With no customers coming into a brick-and-mortar store, the company includes a proprietary instrument with the purchase of a diamond that allows the consumer to view its distinct traits. Amoro owner and founder Stephen Crane explains the tool comprises a 10X magnifying lens inside a tube with a reflective interior. A diamond positioned at the open end of the tube in the magnifying lens's precise centre of focus allows the viewer to admire the 'heart' detail inside its diamonds or the defined 'hearts and arrows' facets of its ideal-cut sparklers.
"Today, diamonds need to be distinguished because of commoditization," Crane says. "Most consumers know a lot about a little and are confused by the 4Cs and other educational bits they learn online or elsewhere. So branded diamonds with something tangible for them to see instills confidence."
Crane says his experience is consumers are comfortable buying premium and branded cuts online because of return policies; in his case, he offers a 30-day return policy for a full refund.
Who's your diamond?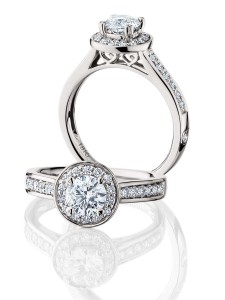 These days, retailers are trending toward producing their own exclusive in-house brands to gain an edge over their competition. Anderson says having a proprietary diamond brand can provide a retailer more control over pricing, making the diamonds more attractive to serious buyers. Davidson's own signature ideal cut—a round brilliant stone cut to AGS triple ideal standards—shows a crisp 'hearts and arrows' pattern and is usually reserved for clients looking for the best in cut. "Since it is not a large brand, the pricing is very competitive," he adds.
De Witte points to his work with Embee Diamonds and its proprietary cut. "They specialize in modified rounds with a star pattern added to the pavilion that is clearly visible in the face-up position, neatly framed by the table. Several versions show five-pointed, six-pointed, eight-pointed or 10-pointed stars. And stars may have a host of symbolic meanings for the consumer."
The word 'symmetry' is critical to discussing premium diamonds. De Witte points out that standard round brilliants are never completely symmetrical, considering their pavilion is comprised of three tiers of lower-girdle facets, while the crown pavilion has four tiers.
"Up until very recently, the task of cutting diamonds was mostly a repetitive effort of producing 58-facet round brilliants, and sometimes close derivatives like ovals, pears, marquises, and heart shapes," he says. "Diamonds are very hard to cut and they are very expensive even in the rough. So mistakes are also very expensive. Until the advent of computerized modelling, it has been cost-prohibitive for cutters to execute their designs."
On balance, the premium-cut diamond customer expects to pay more for the distinctive qualities of such stones. But not all serious collectors end up buying these diamonds, reminds Barbara Kelly, co-owner and director of business development at Anne Sportun Fine Jewellery in Toronto.
"We don't use branded diamonds," she says. "Instead, we use unusual-cut stones for customers searching for an alternative to the traditional diamond. True, they often begin the search looking for something more in line with a classic ring. But when they discover the rose cut and other irregular-shape diamonds that are less flashy and more understated, they discover it's a good fit for their personality."
Look at it this way

Brinkhaus theorizes that eroded margins in a highly competitive market have a lot to do with the number of branded and specialty cuts on the market.
According to Brinkhaus, some branded cuts were strategically developed to save more of the rough stone and so produce a larger carat-weight finished diamond, offering the manufacturer greater return on investment. And fancy cuts have been traditionally priced off the pear shape diamond pricing grid found in the Rapaport Diamond Report. However, new premium brands with only one outlet for purchase can be priced whatever that retailer choses.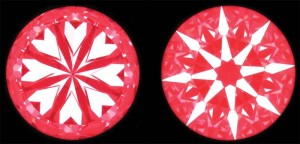 Not everyone sees the value of branded cuts. Mel Moss, president of Regal Imports in Vancouver, thinks many are gimmicks, used mainly to distinguish the merchant or manufacturer from the competition. That alone, however, does not necessarily make it a better product. "The modern round brilliant was scientifically designed and cut to produce the most brilliance," he explains. "Even when specialty cuts are patented, another cutter can tweak the faceting pattern somewhat and produce their own special diamond. This happened with the princess cut, which is widely sold. Other cutters made slight modifications and produced their own version of the princess and sold them under their own brand."
Overall, De Witte believes that modified rounds remain a tougher sell. "I firmly believe the reasons customers ultimately pull the trigger on buying any particular stone is the story they get to tell their family and friends," he says. "Top bragging rights are 'I got the best deal' and 'I got the best diamond.'" However, he is quick to point out nothing sells itself. "Prevailing tastes and consequently, demand, have been largely sculpted by persistent advertising. I believe new designs are indeed the wave of the future."
Diana Jarrett is an award-winning trade journalist and graduate gemmologist (GG). In addition to being a member of the National Association of Jewelry Appraisers (NAJA) and a registered master valuer, Jarrett is a popular conference and trade show lecturer. She writes a syndicated column called "The Story Behind the Stone" for the Southern Jewelry News and Mid-American Jewelry News and is also a writer for magazines such as Texas Jewelers, New York Mineralogical Club Bulletin, and the gem trade blog, Color-n-Ice.
Endnotes:
[Image]: http://www.jewellerybusiness.com/wp-content/uploads/2015/12/ETWSS400-necklace2.jpg
[Image]: http://www.jewellerybusiness.com/wp-content/uploads/2015/12/American-Star.jpg
[Image]: http://www.jewellerybusiness.com/wp-content/uploads/2015/12/MLD_PG3.jpg
[Image]: http://www.jewellerybusiness.com/wp-content/uploads/2015/12/CBG2556.jpg
[Image]: http://www.jewellerybusiness.com/wp-content/uploads/2015/12/NE27104.jpg
[Image]: http://www.jewellerybusiness.com/wp-content/uploads/2015/12/32014K_G1.jpg
[Image]: http://www.jewellerybusiness.com/wp-content/uploads/2015/12/Jim-Caudill-Fire-facets-Triptych.jpg
[Image]: http://www.jewellerybusiness.com/wp-content/uploads/2015/12/Hearts-and-arrows.jpg
Source URL: https://www.jewellerybusiness.com/features/premium-and-branded-diamonds-are-the-industrys-darlings-but-are-they-worth-the-cut/
---