Need to know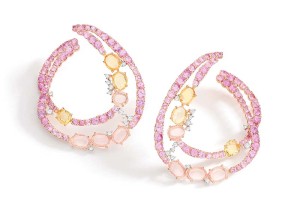 Since consumers for the most part have little to no understanding of how coloured stones are valued, they cannot appreciate the wide pricing structure. It should be a given that customers are interested in being educated, explains Marco Bandiera, manager of Bandiera Jewellers, a retailer in Toronto. "We find taking the time to explain colour intensities and other parameters related to coloured stones is key," he says. "You cannot sell a piece of jewellery today just on the basis that 'it is beautiful.' Price is a secondary issue and it should never scare people off. I believe strongly in selling value."
It could be argued there are as many reasons for buying coloured stone jewellery as there are stone varieties themselves. No doubt, each shopper has their own reason for making a purchase. "When it comes to gems, you either have a customer looking for an investment stone that will be a keepsake to pass on for generations or someone accessorizing their wardrobe," Bourg says.
Daniel Kundakci, executive director of wholesaler European Design Jewellery in Toronto, observes a pattern emerging with gemstone jewellery consumers. "The trends we have been seeing lately are two categories of buyers," he says. "One is the luxury buyer purchasing large top-quality precious gemstones at price points based on their personal needs." Kundakci sees this as a result of the upswing in popularity of gemstone engagement rings, riding the heels of last year's British royal wedding. "The other category belongs to fashion jewellery buyers who are currently purchasing semi-precious stones usually up to $200."
Who's your customer?
Depending on your end user—and where your goods are marketed—price and product can vary significantly.
Edit Simon, artist-owner of Edit Simon Jewelry Design in British Columbia, cuts her own stones and custom-makes jewellery combining diamonds and colourful gems. Price matters, but not completely, she notes. "It really depends on what market you are catering to and the venue in which you sell," she says. "You have to find your clientele. I believe there is a buyer for all price points. The difficulty is to find them and market your products accordingly."
Candy Ice Jewelry lights up the red carpet by accessorizing hot starlets favoured by its target demographic. There's no better marketing trick to creating a following than getting a celebrity to wear a piece of jewellery, which nowadays, for this designer, is leaning toward pretty pastels. "Pink colour palettes are my hottest sellers so I always have them in stock," confides company owner, Lucy Kilislian. Her colourful concoctions retail into the five figures, but consumers can still get star treatment for less. "The average price point for coloured stone pieces I find most likely to sell is $1000."
Kundakci tries to make it easy for shoppers to buy his inventory. "With gemstones, our main objective is to supply customers with a large selection of coloured stones in various sizes, shapes, and qualities, all in one shopping experience." Yet, he never forgets the personalized component. "Gemstones such as birthstones are always in demand and constitute a bulk of our coloured stone orders."