Making the short list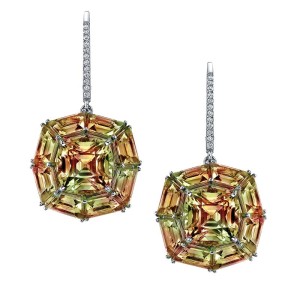 Seasoned veterans whip up their shopping list in short order by factoring in the variables that drive seasonal hot sellers. Still, they keep their customers' preferences in mind.
Simon leans toward lesser-known stones that complement her original designs, so she scouts out the exotics. "I prefer using tsavorite instead of emerald, or red spinel instead of ruby." By educating her customers about these gems, she converts them into embracing atypical stones. The best sellers are still diamonds and corundum, Simon reflects, but she's proud to broaden her customers' awareness of the range of stones available.
Kilislian underscores the popularity of her perennial best sellers—pink stones—but notes other colours in the same family. "We also sell quite a bit of violet, blue, and purple gemstones."
For Pino, the process may be slightly different, since his art jewellery never follows trends, but rather caters to clientele who are sculptural art collectors. Observing his brisk movers, "Recently, my best sellers combine shiny black and vivid yellow in coloured stones, such as onyx and citrine or prehnite."
Although he's placed emphasis on fire opal this season, Kundakci stays attuned to other hot sellers his customers crave. "We're seeing pinks and purples move a lot more now—pink tourmaline, pink sapphire, and amethyst." And cheerful tones like "citrine and yellow sapphire are popular now, as well as London blue and Swiss blue topaz."
Colour cues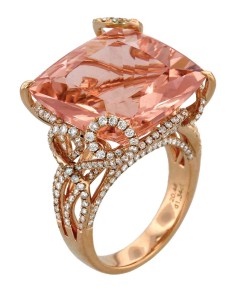 Colours and styles worn by popular personalities create an almost real-time impact on market demands when it comes to jewellery. Movies, especially period films, turn the public tide toward certain gemstones or colours, like the 'Heart of the Ocean' sapphire featured in the blockbuster movie, Titanic.
So vendors are wise to stay au courant. Everything matters to some degree. "We certainly look at fashion and what's in season, but there are timeless coloured gemstones that are classics and can be worn forever," Bandiera says.
"Fashion plays a big role in stocking," Kundakci explains. "We go to jewellery shows around the world and follow fashion closely to help guide how we stock inventory. Seeing a sudden surge of vibrant colours everywhere, we have stocked our gemstones accordingly. An example would be our order of a larger quantity of Mexican fire opal earlier this year due to Pantone Color Institute naming Tangerine Tango the colour of 2012. As we move into the summer months, vibrant colours and Mexican fire opals are sure to be big sellers."
Simon prefers the experience and personal preference route. "I always choose coloured stones according to my own liking and that of my clientele, but also the deals I can get on certain materials."
In the end, nothing quite matches the intangible intuition factor. Pino hedges his bets by asserting he "is guided 50-50 by Pantone" for choosing colours. "I always look at the predictions, however, I make my final decision in relation to the thematic concepts I want to explore."
Sounds like a perfect excuse for a treasure hunt.
Diana Jarrett is an award-winning trade journalist and graduate gemologist (GG). In addition to being a member of the National Association of Jewelry Appraisers (NAJA) and a registered master valuer, Jarrett is a popular conference and trade show lecturer. She writes a syndicated column called "The Story Behind the Stone" for the Southern Jewellery News and Mid-American Jewellery News and is also a writer for magazines such as Texas Jewelers, New York Mineralogical Club Bulletin, and the gem trade blog, Color-n-Ice.