By Andrea Wenckebach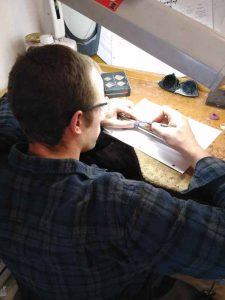 In the last couple of decades, there have been incredible new innovations and technological advances in the jewellery industry. Keeping up with these changes is an essential function of the curricula of many community college jewellery programs. As such, those programs must continually evolve.
As an educator of the next generation of goldsmiths, I often reflect on the implications of recent technological changes we've seen within the jewellery industry and how they will affect what I do in the classroom. It is, however, rarely easy to understand what kind of innovations are important or which will be widely adopted by the industry. Additionally, technology is often very costly to buy and run, a fact that limits what many programs can offer. Adequately preparing graduates of these programs to enter the workforce, therefore, is challenging.
The more things change…
Étienne Delaune, a French goldsmith who worked in Paris in the 1550s, created a number of engraved prints. Among those prints were a few depictions of goldsmiths' workshops. These 400-year-old engravings show files, draw benches, drawplates, hammers, stakes, pliers, bench pins, and draw tongs, among other tools, which look the same or extraordinarily similar to the hand tools we still commonly use in our jewellery repair shops and custom jewellery stores today. If we in the jewellery trade are still using the same hand tools we have for hundreds of years, perhaps the industry really hasn't changed that much.
According to Brett Thompson of Gesswein Canada, only approximately 20 per cent of his customer base spends more than $5000 every four or five years on high-tech equipment. Thompson asserts over the years, the most common question he has heard from his customers is, "How much is it going to cost?" In contrast, he claims, in the United States the question tends to be, "How much money will that machine make me?"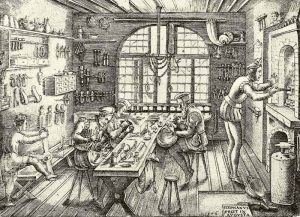 "Until recently," Thompson explains, "Canadian jewellery retailers hadn't embraced technology as much as we thought they would. For manufacturers of newer technologies, the Canadian market is too small, and the industry has been leery of incurring extra costs to bring in cutting-edge technology."
Very recently, however, he has seen changes with a few retailers starting to spend more money to adopt some of the technological advances spreading throughout the industry.