Bringing innovation to education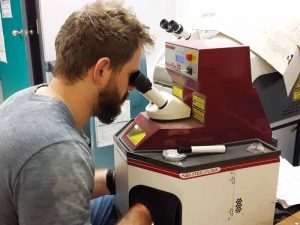 If the industry is indeed beginning to adopt more technology and use new tool types to create and design jewellery, training of the next generation of goldsmiths should reflect these changes. However, a look at even one of these developments—such as the increasing use of design software—gives an educator pause.
The amount and variety of design software available to the jewellery industry is growing exponentially. There is a wide range of software and plugins for different purposes and applications. As a result, jewellers, goldsmiths, and manufacturers can pick the programs that work best for their specific needs. As a teacher, however, this diversity presents a real conundrum in terms of curriculum planning. It is impossible to teach students all of the software programs the industry is currently using. Yet, trying to pick the one program that might stand out from the crowd and be adopted by even a small portion of the Canadian jewellery trade is akin to using a crystal ball to reveal the future—virtually impossible.
It is not just software that is problematic. Picking newer technologies like 3D printers or laser welders for our programs is challenging not only because we don't often know how much infiltration into the industry there will be, but also because new technologies have a tendency to be expensive. Cash-strapped colleges are hard-pressed to come up with funds for costly, unproven solutions. Even when funds are available, the levels of approval and time it takes to acquire new technologies make it difficult to keep programs current and students learning on cutting-edge machines.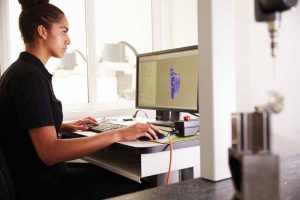 Tyler Teague, who does work for Jewelry Engineering Technology & Training (JETT) Research in Tennessee, has worked in jewellery manufacturing for years and is known for creating products and perfecting engineering processes for the jewellery industry. He asserts with all the technological changes happening in the industry, engineering needs to be part of jewellery training. He is aware many technologies are out of financial reach of the colleges, but maintains a multitude of skills are needed now.
"The jewellery industry has come full circle. For a while the mom-and-pop stores were sending hard-to-make pieces offshore, but now, with technologies like 3D printers, those jobs are coming back home," he says. "A bench jeweller with CAD skills is more valuable than one without."
With increasing cutbacks in the college system, money to accommodate all the changes that are already here and those yet to come is scarce. The current federal government, however, seems to have recognized the increasing need for technology and innovation at the postsecondary level. With the Post-Secondary Institutions Strategic Investment Fund, the government has invested $2 billion over three years in infrastructure to bolster research and innovation at Canadian colleges and universities. However, the funding seems earmarked for programs like environmental engineering and computing. Jewellery programs will have to fight for a tiny piece of that innovation money, as they tend to be seen as art programs that don't require much technology.
Small steps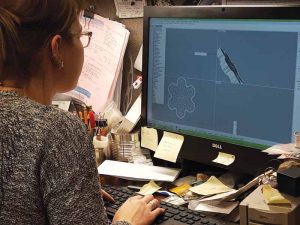 A book sits open in my office showing one of Étienne Delaune's 440-year-old depictions of a goldsmith's workshop. A 3D-printed ring sits alongside it, grown in the newest printable wax. I just e-mailed a supplier who may be able to get us a license for 3D modelling software at a reduced cost, and I'm prepping a wax-carving demo for my students.
Kim Kostiuk has had a talented apprentice at his bench for five years. "It's difficult to find a dedicated, well-rounded goldsmith," he muses.
It is a challenge for training programs to stay current—to find a balance between teaching old skills and new. However, with a bit of research, essential hand skills, and some reduced costs here and there, college jewellery programs are continually working to give students the kind of rounded education Kostiuk talks about—the kind that will give graduates the skills to be not only current, but also innovators within the industry.
Andrea Wenckebach is a studio jeweller, as well as a full-time faculty member for the jewellery and metals program at Georgian College in Barrie, Ont. She can be reached at andrea.wenckebach@georgiancollege.ca.