By Shele Letwin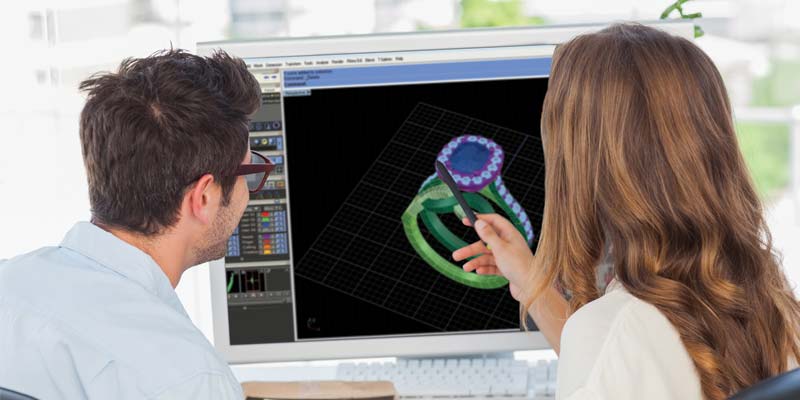 My sister, Sharlane Letwin, is a professional retail jewellery sales associate. Yet, when asked what she does for a living, she answers, "I make small talk all day long." Sharlane is very charming, her sales numbers are high, and her employer invests in on-going training every year to keep his team sharp. Sorry, sis. There's value in all that, but talking is only going to get you so far. A visual component is also a must these days, which means adding technology to your sales pitch to help close the deal.
A different angle on things
A few years ago, I was asked by Bob Bruder of Jewellers Bench in Barrie, Ont., to help out during the holiday season. Four days before Christmas, a gentleman walked in looking to buy ruby and diamond earrings. Bob had a very small store at the time. With just six showcases, there was little finished jewellery to show the client. I knew Bob had loose rubies in the safe, so out came my digital camera. After taking a photo of a pair of diamond earrings he had in stock, I used 2-D design software to place the rubies onto the image. With a laser welder, Bob made quick work of the design and the earrings were ready for pick up two days later. That was a $1000 sale. With some quick thinking, a camera, and knowledge of 2-D software, we sold an item we didn't even have in stock and kept the customer from going to the competition.
These days, digital cameras are very affordable, but if you want to take some really great shots, perhaps a light box is in order, something easy your entire staff feels comfortable using. A good camera system is something you will likely use every day for things like taking in repairs, incorporating images of inventory into your point-of-sale program, appraisals, and keeping your website fresh with photos of new designs. You may even want to be proactive and drive sales by e-mailing clients images of inventory you discovered at the last trade show. Getting your customers excited about new products not only creates interest, it also keeps you top of mind for that birthday or anniversary gift they need to purchase down the road.