A tale about a tablet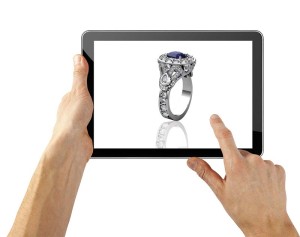 Gea Phagoo of Red Deer Goldsmiths has been using CAD since 2005. Her husband, Victor, loves the bench and working with customers; he has no desire to use a computer. In fact, every time his granddaughter, Noa, comes to visit, she teaches him a new feature on his smartphone. Good thing, because there are now apps for some CAD programs that allow the user to download the model onto an iPad and rotate the design to see it from every angle. So now Victor can sell using his iPad without having Gea on hand to run CAD on a desktop. A tablet is also a good idea if you have no room for a computer design station on your sales floor.
Take the plunge
Changing your sales pitch to incorporate technology can be a little scary at first. I'm a perfect example. Almost 20 years ago, Bruce Bailey of Bailey & Sons Jewellers in Petrolia, Ont., hired me for a two-day event designing remounts. I had taken a four-day class in 2-D software a few weeks prior and had zero time to practice. The special computer required for the program was not ready until four hours before my first appointment. So, there I was, sitting with a very kind older lady, my brother, Bill, and Bruce. All eyes were focused on me—sweat was pouring down my back. I wanted to toss the computer aside and grab my pencil, the tool with which I was most comfortable. I persevered, though. I was convinced technology would grow to play a bigger role in selling jewellery, and I was right. Back then, we had only just begun to scratch the surface. Today, the pool of technology and experts to help make the transition is much bigger. Are you ready to dive in?
Shele Letwin is president of GV Design Canada, the authorized Canadian distributor of Gemvision and Envision Tec products. She is a graduate of the jewellery arts program at George Brown College, an award-winning designer, and CAD/CAM instructor. Letwin is often a guest speaker at trade shows and at the Gemvision Design Symposium. She can be reached via e-mail at shele@gvdesigncanada.com or (866) 299-1702.