Tech talk: Bringing technology into your sales pitch
December 1, 2013
By Shele Letwin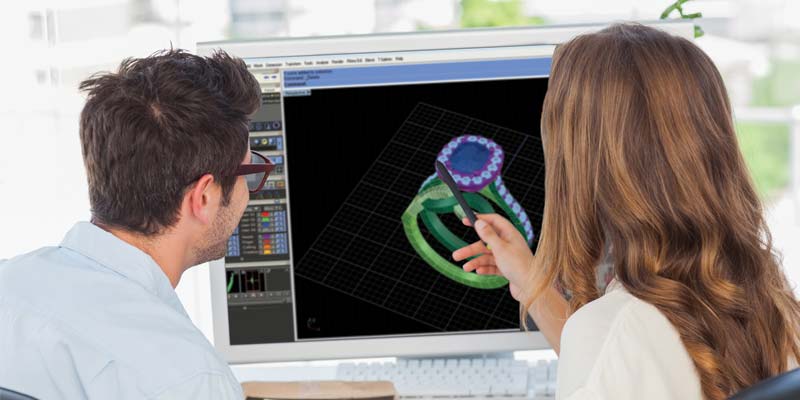 [1]
My sister, Sharlane Letwin, is a professional retail jewellery sales associate. Yet, when asked what she does for a living, she answers, "I make small talk all day long." Sharlane is very charming, her sales numbers are high, and her employer invests in on-going training every year to keep his team sharp. Sorry, sis. There's value in all that, but talking is only going to get you so far. A visual component is also a must these days, which means adding technology to your sales pitch to help close the deal.
A different angle on things
A few years ago, I was asked by Bob Bruder of Jewellers Bench in Barrie, Ont., to help out during the holiday season. Four days before Christmas, a gentleman walked in looking to buy ruby and diamond earrings. Bob had a very small store at the time. With just six showcases, there was little finished jewellery to show the client. I knew Bob had loose rubies in the safe, so out came my digital camera. After taking a photo of a pair of diamond earrings he had in stock, I used 2-D design software to place the rubies onto the image. With a laser welder, Bob made quick work of the design and the earrings were ready for pick up two days later. That was a $1000 sale. With some quick thinking, a camera, and knowledge of 2-D software, we sold an item we didn't even have in stock and kept the customer from going to the competition.
These days, digital cameras are very affordable, but if you want to take some really great shots, perhaps a light box is in order, something easy your entire staff feels comfortable using. A good camera system is something you will likely use every day for things like taking in repairs, incorporating images of inventory into your point-of-sale program, appraisals, and keeping your website fresh with photos of new designs. You may even want to be proactive and drive sales by e-mailing clients images of inventory you discovered at the last trade show. Getting your customers excited about new products not only creates interest, it also keeps you top of mind for that birthday or anniversary gift they need to purchase down the road.
Internet diamond pricing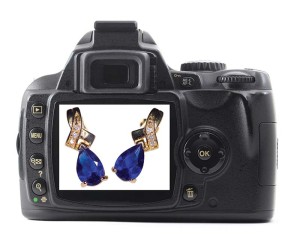 In the 1990s—before diamond prices were so readily available online—I worked for Creative Goldsmiths, a retail jewellery store in Vancouver that was known for its custom designs. (I was often called in to assist with engagement ring sales because I could sketch quickly.) My experience at the store taught me an extremely important lesson.
Most of the time, a groom-to-be is concerned with finding a specific diamond size, quality, and colour. However, to help create the perfect piece, it is always a good idea to get to know the client, his future fiancée's taste in jewellery, and his ideas for the ring's design.
So where am I going with this? Well, this scenario not only highlights the importance of the relationship-building process, it illustrates another opportunity to incorporate technology. Some suppliers' websites show all their stones (or merchandise) with a retailer's own markups. That way, you can do your own search with the client right next to you. This not only can add another layer of trust to the relationship, but the experience will likely appeal to your tech-savvy customers.
Which leads me to another point, this time, specifically about diamond e-tailers. I was speaking to Steve Agopian, owner of Vancouver's Lugaro Jewellers, a few years ago. He told me his 20-something sales associates were taking the initiative to compare stones in stock with what they found online. I'm pleased to report they were getting the sale. How? The one thing the Internet cannot show is cut. Diamonds are all about the sparkle, and your ability to convey that information is exactly where you can shine, too.
CAD—a timesaver
Every time I speak to someone about CAD, there is always concern about how much time it takes to become proficient in its use. Christine and Paul Korsten of Korsten AM Jewellers in Orangeville, Ont., bought CAD software a few years ago, and Christine admits she is a little slow when it comes to using it. Yet, she says she would rather take an hour designing in CAD and giving the customer exactly what they want than spend the same amount of time on the phone with suppliers trying to find a similar design.
Besides the expense of long distance phone calls and shipping, you may be taking a bit of a risk your supplier has something in stock that is comparable to what the client is looking for. If it's not, their next stop could be your competitor. Yes, learning to use CAD takes time, but consider the possibilities. Not only can it help give the customer what they want, but over time, you will amass a library of designs you can easily tweak for future jobs.
A tale about a tablet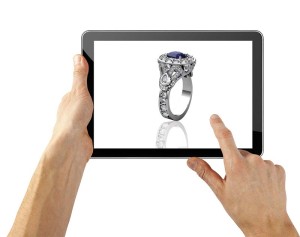 Gea Phagoo of Red Deer Goldsmiths has been using CAD since 2005. Her husband, Victor, loves the bench and working with customers; he has no desire to use a computer. In fact, every time his granddaughter, Noa, comes to visit, she teaches him a new feature on his smartphone. Good thing, because there are now apps for some CAD programs that allow the user to download the model onto an iPad and rotate the design to see it from every angle. So now Victor can sell using his iPad without having Gea on hand to run CAD on a desktop. A tablet is also a good idea if you have no room for a computer design station on your sales floor.
Take the plunge
Changing your sales pitch to incorporate technology can be a little scary at first. I'm a perfect example. Almost 20 years ago, Bruce Bailey of Bailey & Sons Jewellers in Petrolia, Ont., hired me for a two-day event designing remounts. I had taken a four-day class in 2-D software a few weeks prior and had zero time to practice. The special computer required for the program was not ready until four hours before my first appointment. So, there I was, sitting with a very kind older lady, my brother, Bill, and Bruce. All eyes were focused on me—sweat was pouring down my back. I wanted to toss the computer aside and grab my pencil, the tool with which I was most comfortable. I persevered, though. I was convinced technology would grow to play a bigger role in selling jewellery, and I was right. Back then, we had only just begun to scratch the surface. Today, the pool of technology and experts to help make the transition is much bigger. Are you ready to dive in?
Shele Letwin is president of GV Design Canada, the authorized Canadian distributor of Gemvision and Envision Tec products. She is a graduate of the jewellery arts program at George Brown College, an award-winning designer, and CAD/CAM instructor. Letwin is often a guest speaker at trade shows and at the Gemvision Design Symposium. She can be reached via e-mail at shele@gvdesigncanada.com[4] or (866) 299-1702.
Endnotes:
[Image]: http://www.jewellerybusiness.com/wp-content/uploads/2015/11/bigstock-Photo-editor-pointing-at-compu-46873852.jpg
[Image]: http://www.jewellerybusiness.com/wp-content/uploads/2015/11/bigstock-Dslr-Camera-5888105.jpg
[Image]: http://www.jewellerybusiness.com/wp-content/uploads/2015/11/bigstock-tablet-computer-isolated-in-a-38925970.jpg
shele@gvdesigncanada.com: mailto:shele@gvdesigncanada.com
Source URL: https://www.jewellerybusiness.com/features/tech-talk-bringing-technology-into-your-sales-pitch/
---