Pearls and human skin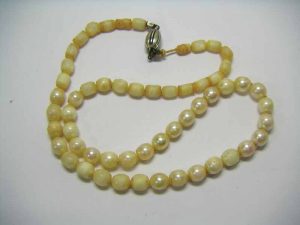 Even minimally acidic substances can have an adverse effect on pearl jewellery. For example, when worn in close contact with the skin over a prolonged period of time, pearls may react to the usually weak acids of the human body. (So far, no systematic studies have been undertaken and our knowledge is confined to observations.)
Human skin produces sweat containing salt, a number of trace elements, and different acids (such as uric, lactic, and low fatty acids). Sweat controls the water and mineral balance as well as the temperature of the body, and is also produced when a person is at complete rest. Degrees of acidity vary from person to person and are subject to changes connected with a person's metabolism.
Damage, if it takes place at all, usually starts with tiny dull spots and proceeds slowly. The photo at right shows an akoya cultured pearl necklace that has suffered extraordinarily severe damage. The extent of this is an indication the necklace must have been worn directly on the skin for quite a long time, but details are not known.
Only about 21 of the 56 barrel-shaped pearls (6 to 7 mm [0.23 to 0.27 in.] in size) have kept the original surface appearance, which means the pearly layer has remained more or less intact. Those are the pearls in the middle of the necklace. The remaining pearls, extending from the clasp toward the middle, have been more or less completely stripped of their pearly layer, of which only spots remain near the drill hole. Instead, they reveal the surface of the mother-of-pearl bead that had been implanted into the mollusc, which has a dull surface and shows characteristic growth layers.
The pearls seem to have very thin nacre of below 0.1 mm (0.003 in.), which may be one of the reasons they were damaged so badly. Generally speaking, pearls with a thin nacre thickness (usually encountered among the lower qualities) are more vulnerable to daily wear than pearls with a higher nacre thickness.
Contact with acids in human skin can generally not be avoided as long as the customer wears the pearls directly on the skin. Acids will be transported along the string into the drill holes, which will enlarge. This is especially true for pearls near the clasp, which lie flush against the skin around the neck. Ear jewellery is similarly sensitive.
To prevent this kind of damage, customers can be encouraged to keep pearls off the skin by wearing them over a scarf or roll-neck sweater. You could also pass on Mikimoto's advice to regularly clean them with a soft cloth impregnated with alcohol, as alcohol cleans away the remains of sweat. However, when only a soft cloth is used, traces of acid will be distributed evenly on the pearls' surface and might eventually lead to a change of appearance. Leather cloths should not be used, as they contain tannic acid.