By the numbers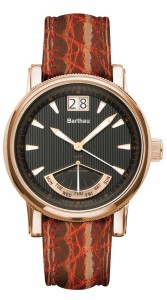 Competition on the Internet is just one of the reasons why the watch industry—Swiss and non-Swiss—is struggling to maintain the record highs of previous years. According to the Federation of the Swiss Watch Industry (FH), watch exports declined in October by 12.3 per cent compared to October 2014. "While an unfavourable base effect and one fewer working day may have played a part in this development, the poor result stems primarily from an acute contraction of the main markets of Asia and the United States," said FH in its October 2015 report, the most recent figures available at this article's writing.
The numbers are worrying. Export value fell by 12.7 per cent, while volume tumbled 8.7 per cent; steel pieces were hardest hit, recording a decline of 14.3 per cent in volume.
In terms of export price, watches in the 200 CHF to 500 CHF ($270 to $680 Cdn) category plummeted by 13.2 per cent. Watches costing more than 500 CHF recorded a decline of 7.1 per cent and 8.2 per cent in volume and value, respectively. The 3000 CHF and above ($3900-plus Cdn) category saw downturns in excess of 13 per cent. In specific markets, Hong Kong and the United States decreased the most at 38.5 per cent and 12.2 per cent, respectively.
Professional services firm Deloitte has been studying the watch industry since 2012. In its 2015 survey, it found the strong Swiss franc had a significant effect on sales, coupled with weaker foreign demand in Hong Kong and China. Its online survey of 51 watch executives revealed the most troublesome information: 41 per cent of them said they were pessimistic about the economic outlook for the Swiss watch industry, while only 14 per cent were optimistic. Deloitte says these are the worst results since it created the survey.
The numbers for lower price points are equally disturbing. According to NPD Group, U.S. retailers sold $375 million in watches in June, a decline of 11 per cent over June 2014. The biggest drop, however, is in the lower end. NPD says watch sales in the $100 to $149.99 range fell 24 per cent.