Time marches on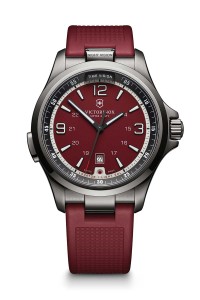 Rich Rosenfeld, vice-president of sales for Victorinox Swiss Army, sees 2015 as a transitional year for the watch industry.
"Every industry goes through periods of adjustment," he says. "While it can be tough for some to manage through these times, companies willing to challenge the norm will strengthen. These forward-thinking companies often bring the creativity of new technologies, new methods of production, stronger communication to the consumer, strategic market growth, etc. The best news for the watch industry is that smartwatch technology has brought an entirely new wave of consumers to our business. Our consumer base is being reborn."
Many Swiss brands have developed their own smartwatches, Movado and TAG Heuer being two of the latest to launch a wearable. However, the full extent of the effect the Apple Watch is having on traditional watch sales is still up for debate. The tech company says it isn't providing any sales figures for competitive reasons, although consumer and trade publications have reported the watch to be both a hit and a flop depending on whether you ask techies or non-techies.
The hype around technology may be inadvertently creating a focus on traditional watches, Rosenfeld says. "With the advent of smartwatches, people are becoming more comfortable wearing watches as an accessory," he explains. "Anything that brings more attention to the wrist and gets people wearing watches is good for the industry."
Sian Williams, president of Bulova Corp., says Apple is "invading our space" with its line of wearables. "But it's also introducing watches to a whole new generation," she notes. "What this means is the pie is getting bigger and I think that can be a positive."
With all this attention on smartwatches, some consumers may be looking to the past as a way to stand out. Jay Cameron, vice-president of sales and marketing for Montreal-based Fiori Canada, says he's seen more interest in pocket watches in the last year or so. Popular as gifts for groomsmen, a pocket watch worn with a fob that attaches to a belt loop is a growing trend, he explains.
"I don't know if there's resurgence in pocket watches per se, but availability is definitely a factor," says Cameron. "A lot of watch companies have abandoned them entirely, so that is created a bit of a niche market. So for companies that do have them, they sell a lot more because people are looking for them."