If companies were people

Suppose you were assaulted and robbed. If the criminal was allowed to argue a few years later that your complaint was in the past and therefore invalid, civil society would break down. Why shouldn't we hold businesses that work within civil society to such standards?
If you Google a major, multinational mining company in the context of human rights and the environment, you will most likely discover major concerns from nongovernmental organization (NGO) watchdogs. If a company has committed past transgressions, shouldn't that company have to acknowledge its faults and create some program for reconciliation and restitution as a foundation for any new assertions of ethics? I think the answer to these questions is yes.
Unfortunately, when 'chain of custody' simply means a company currently has control of its mined product from mine to market, the ethical standard may have no impact on practices on the ground, and meeting it might be as simple as drafting some paperwork.
Similarly, blockchain—the latest technical chain of custody solution—can also fail to address labour and environment issues, as well as potential impact on Indigenous people. It favours the large-scale mining operations where profit does not stay local, but is exported to shareholders.
Matters of chain of custody, traceability, and transparency are all foundational to ethical practices, but true ethical jewellery must have one other main feature—a focus on small-scale mining communities.
Artisanal small-scale mining
Small-scale diamond, gold, and gemstone miners need beneficial economic development to feed their families. In an ideal scenario, money stays local, and the people on the land gain maximum benefit from their resources. However, that is not easy, because it requires the industry to source from the small-scale mining sector.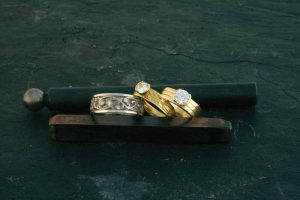 Large-scale mining contributes 7 million jobs globally, while the latest research tells us 150 million people across 80 countries depend on small-scale mining. (For more details, click here and here.) Women comprise 25 to 50 per cent or more of small-scale miners. (More information is available here.)
Worldwide, 20 per cent of gold comes from small-scale miners, which are the largest contributor to global mercury after coal-fired power plants. Small-scale miners also produce about 20 per cent of diamonds and the vast majority of coloured gemstones. This type of mining is characterized by exploitation, poor and unsafe working conditions, child labour, and extreme poverty. It occurs informally, and often in countries with marginal civil society institutions.
For jewellery to be truly ethical, a jeweller should be able to confirm his or her purchase from these miners is actually maximizing benefit to their local economy. Small-scale gold miners—who are sometimes paid in sacks of dirt—would, in a truly ethical system, have access to international markets instead of selling to middlemen who can take 30 per cent of the value. They would also be trained in how to mine in a socially and environmentally safe manner.
Ideally, standards and principles are needed to back up the veracity of an 'ethical' claim in support of a strong local economy. In the context of gemstones, for example, there would be cutting facilities increasing beneficiation. Legions of NGOs are currently 'capacity building' with small-scale mining communities, but the greatest progress—particularly in terms of the consumer market—has been fairtrade gold.