By Bénédicte Lavoie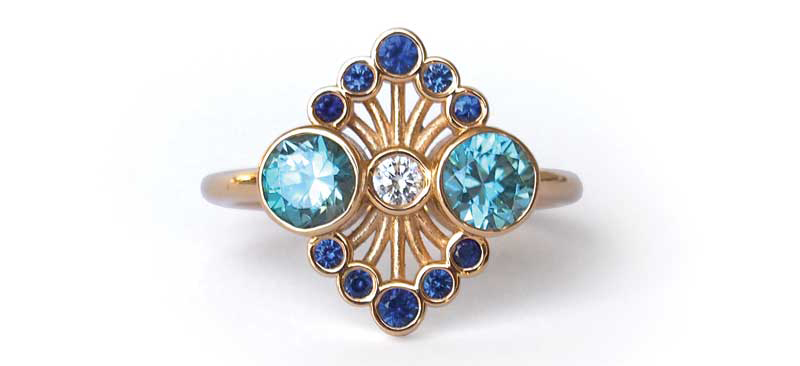 When we think of traditional North American and European weddings, the mind conjures images of white dresses, beautiful flowers, sparkling diamonds, and exquisite pearls. While these touches are derived from a mash-up of traditions with British, Greek, and Roman origins, they are also very much influenced by fashion. White wedding dresses, for example, were made popular because Queen Victoria wore one at her nuptials in 1840. Prior to that, bridal gowns were seen in a range of colours.
Further, who says engagement rings must be made with diamonds? This question, of course, is a bit cheeky, as jewellery professionals are no doubt familiar with the answer. This long-standing tradition is the result of a fairly genius marketing campaign, which has been embraced by today's fashion.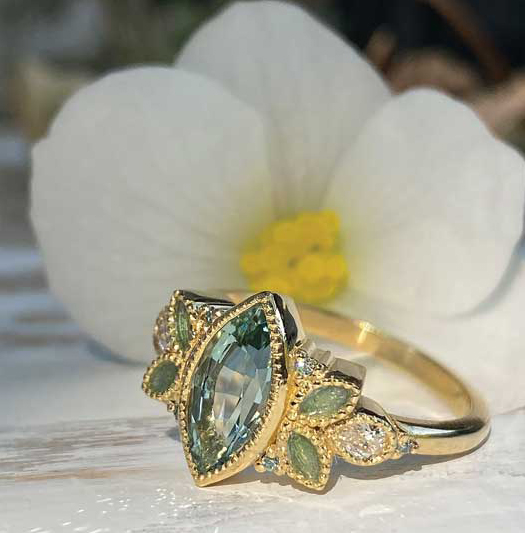 Of course, things change—especially fashion! These days, we are seeing more and more celebrities and trendsetters ditch diamond engagement rings in favour of big, juicy gemstones of all varieties and colours. While most brides want to keep some traditions alive, they are also keen to express their uniqueness—and colour gems can help achieve just that.
As a Montréal-based colour gemstone wholesaler, I have observed the increased demand for these incredible gems, but how can jewellers harness this trend? I spoke to seven Canadian artists and goldsmiths (all of whom are fans of colour gemstones) to find out how jewellery retailers can make their bridal showcase a bit more colourful.
Outside the box
The Canadian bridal market has certainly seen a steady, increased demand for colour gemstones in recent years, says Toronto-based designer, Meg Lizabet.
"People are feeling less obligated to follow established traditions and are looking for something more individual and expressive—something that allows them to stand out in a very saturated wedding market," she says. "Add to this the cost savings that often go along with colour gems, I don't see the trend slowing down anytime soon."
Emily Gill, a Montréal-born bespoke designer currently working in Toronto, has also noticed the influx of interest.
"While I have been making jewellery for more than a decade, I have specialized in bridal for six years, and so the entire length of my career designing engagement rings has primarily focused on colour gems, especially sapphires," she says.
Beyond different gems, Lizabet notes many clients are also looking beyond the settings and styles that have long dominated the bridal and engagement market.
"Clients are far more open to unique designs and breaking away from traditional solitaire settings," she says. "They value expression and authenticity over conformity and tradition, and colour gems are a way to speak to your own individual tastes."
David French, master goldsmith at Vancouver-based luxury jewellery shop, Grimson & Sons, agrees, noting the seed for non-traditional gemstones is often planted before the design process even begins.
"We have found our clients, particularly of the younger generation, tend to do their own research," he says. "They have pretty clear preferences of stones and visions of the style they would like even prior to coming into their consultation."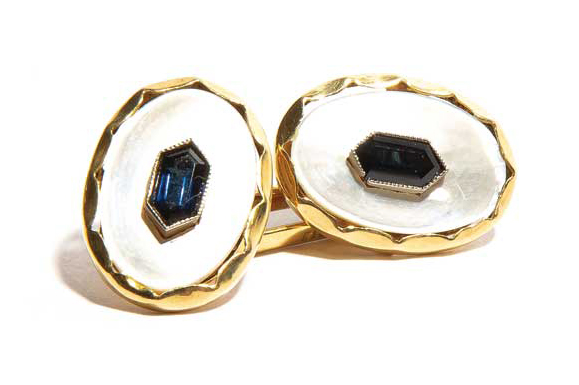 These trend-setting consumers also often have an idea of which colours are expected to be in style in the seasons ahead. This can provide jewellers with valuable insight as to what varieties of gems should be added to their inventory and showcases.
"Our customers are typically early adopters of trends, so we take colour surveys to keep on top of changes in the market," says Rosemary Bartram, owner of Era Custom Design Jewellery in Vancouver.
"On my side, the demand is growing for custom jewellery with coloured stones, particularly with sapphires," adds Maxime Proulx of Montréal's Maksym Joaillerie. "I also offer more and more of them in my collections."
Indeed, when it comes to customization, the personalized possibilities of colour stones are endless. Whether a couple wants to go 'all out' with bold shades or more subtle with pastel tones, there are plenty of options to explore.
While most customers are familiar with some of the more popular precious stones (think: rubies, emeralds), there are added nuances jewellers may be wise to share. For instance, a client may not realize sapphires are available in a wide range of colours or might not know about the breathtaking beauty of morganite.
"Coloured gems are my passion," says Olga Leclair, founder of LOFT.bijoux in Montréal. "I travel to Europe, Russia, Asia, the United States—all around the world—to collect precious grains of knowledge about them. I feel absolutely happy to help my clients discover gems they had no idea existed—like Padparadscha sapphire, spinel, or many others. Their variety has no limits, nor does my passion for them."
Flexing creative muscles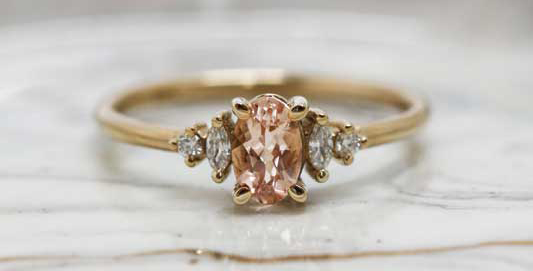 Indeed, the growing trend of colour stones in bridal jewellery is a win-win—both for jewellery-lovers and jewellery-creators. Many designers love working with these gems because the material allows them to let loose with creativity, while still collaborating closely with a customer to develop something to their taste.
"I think bridal jewellery made with gemstones has so much more personality than traditional engagement rings," says Cecilia Lico, founder of Lico Jewelry in Montréal. "My work is all about mixing and matching colours. Picking the right colours to combine in my designs is one of the main creative steps of my process."
Bartram agrees, adding the process of colour-pairing is a highlight of the job.
"I love designing—it's like a perfect puzzle that keeps me entertained for hours," she says. "While gemstones and diamonds may be the focal point of the designs, I am fascinated by art history and enjoy the creation of each piece."
Additionally, pairing stones of varying hues with certain metals can do wonders when it comes to elevating a design, Proulx says.
"The possibilities are endless when it comes to working with coloured stones," she explains. "The arrangement of the colours of metals with the different coloured stones makes the piece of jewellery all the more visually complex than simply with diamonds."
Practical magic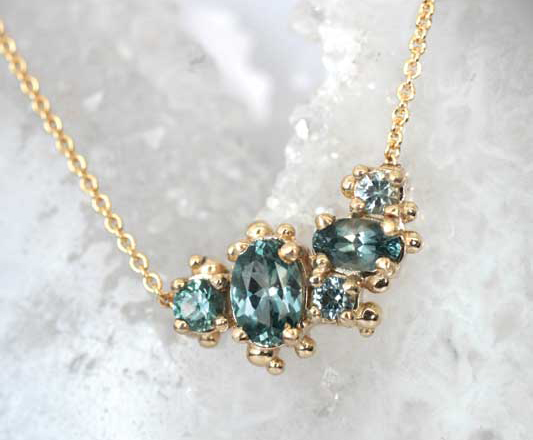 Of course, not all gems are suitable for everyone. While some individuals can wear tourmaline, zircon, or even opal daily without a problem, sporting these types of stones can be risky, depending on a person's lifestyle.
With wedding-wear, you are creating heirloom jewellery that will be passed down generations—durability is important! When it comes to rings, it is better to stick with harder stones, such as sapphire, ruby, chrysoberyl (alexandrite), spinel, and so forth. The good news, of course, is sapphires come in a myriad of colours, shades, and hues, which allows for supreme customization.
There are plenty of other 'tricks' to safely incorporate unique colour, too.
"The use of colour has been wildly important to me since before I could even afford higher ticket stones for my work," Gill says. "Using glass enamel once allowed me to enhance designs with colour, and now I embrace the combination of vitreous glass enamel with coloured stones for a truly unique look."
"While it is difficult to mimic the exact hues of a coloured gem using glass, I have plans to create several one-of-a-kind pieces that explore glass enamel colours I have yet to try and may not be on anyone's radar," she adds.
Generally, for pieces intended for daily wear, it is best to avoid more delicate gems, such as moonstone, opal, pearl, emerald, or heavily included gemstones. That said, if you are working with a future bride who happens to love both CrossFit and opals, why not suggest beautiful opal earrings? If a client is saving a bit of money with their gemstone selection, they may be more inclined to complement their engagement ring with another piece of special jewellery. For the ring (designed for every-day wear), select a stone that will pick up some of the colours within the opal of the earrings, like a blush-pink or purple sapphire, yellow chrysoberyl, or a bright red spinel.
Bang for your buck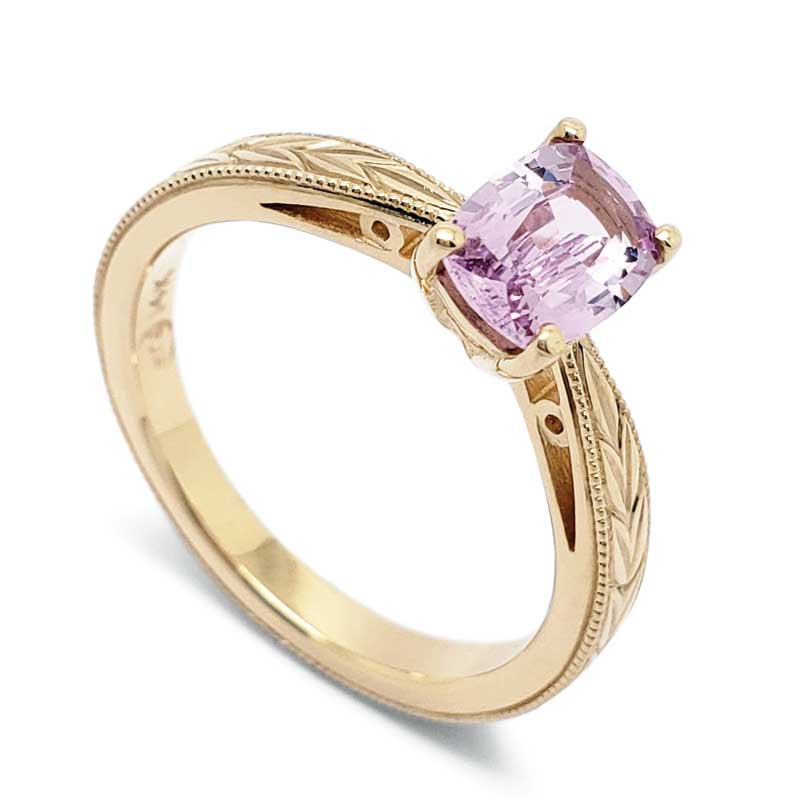 In most pieces of jewellery, high-quality natural diamonds are the priciest option. Opting for a non-traditional coloured gemstone means a client will get a higher carat count for their money. For this reason, lab-grown diamonds are also becoming an increasingly popular option, but these stones may or may not hold their value as heirloom pieces. By contrast, gemstones will certainly retain or increase in value over time.
"Coloured stones are a good alternative to diamonds when my clients have a smaller budget," Proulx says.
"Everyone knows a little about the basic stones, but whenever the opportunity arises, I give more information on the many possibilities available to them," she adds.
Irreplaceable hue
When asked about the ratio of diamonds they use in bridal jewellery as compared to colour gemstones, the responses of my panel of experts averaged at 46 per cent diamonds and 54 per cent gems.
Admittingly, while I knew I was speaking with a colour gemstone-loving crowd, I was still surprised by these  responses—I anticipated diamonds would win out for sure! According to De Beers, in 2019, more than 70 per cent of American couples opted for a diamond engagement ring, but only two of the seven designers I interviewed said most of their bridal jewellery was centred on diamonds.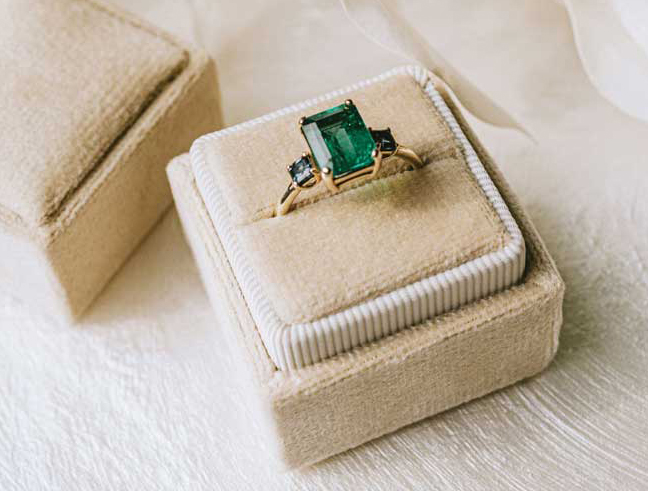 When questioned about the three gemstones they most commonly work with, six of the seven cited diamonds, but sapphire was a unanimous top choice. Other 'top three' gems included emerald, aquamarine, morganite, spinel, ruby, and lab-grown diamonds.
When asked if they felt customers were aware of the colour gemstones options in bridal or if it was assumed jewellery in this category should always include a diamond centre stone, the answers were varied. (It is important to note, however, that out of the seven designers and goldsmiths, five said they specialize in both carefully chosen diamonds and colour gemstones, while two said their specialty is colour gems.)
"If they have stumbled across my website while searching for 'custom jewellery' and weren't aware sapphires come in a myriad of colours, they are pleasantly surprised, and enjoy learning they can purchase something meaningful and different by exploring the rainbow of sapphires," Gill says.
Additionally, Bartram adds, many shoppers might search for diamond alternatives because of lingering negative associations surrounding natural diamonds.
"Many of my clients would never wear a mined diamond—never!" she says. "The marketing around diamonds has been poorly managed for years. It is out of touch with what many people want for themselves."
Leclair, a colour specialist, says many of her clients are unaware of the possibilities that exist beyond diamonds.
"People are often surprised to discover other options," she says. "There are many cases where they come for a diamond and finally decide to take a precious coloured gem."
Conversely, Lizabet finds that, because she is a colour gem specialist, this often draws in more customers. She attributes this attraction to something beyond the scope of what a diamond can offer.
"Clients are aware of coloured options—it is one of the reasons they seek me out," Lizabet says.
Indeed, the matchless beauty and limitless customization offered with colour gemstones may be the reason why more and more customers are eager to say, "I do!" to these engagement rings.
"There is something invaluable about the uniqueness of a coloured stone that makes it irreplaceable compared to a diamond that, while beautiful, can be more easily replaced," Lizabet says.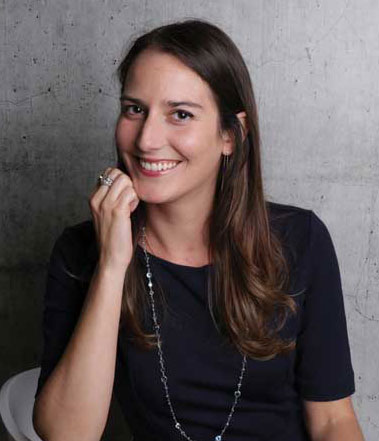 Bénédicte Lavoie, FGA, is co-owner and vice-president of Pierres de Charme and specializes in fine coloured gemstones. She joined the family business after completing a bachelor's degree in business and human resources (HR) management and was awarded the internationally recognized title of Fellow of the Gemological Association of Great Britain (FGA–Merit). Based in Montréal, Pierres de Charme supplies fine gemstones to jewellers, goldsmiths, and award-winning artists across Canada and the United States. Lavoie can be reached at info@pdcgems.com.