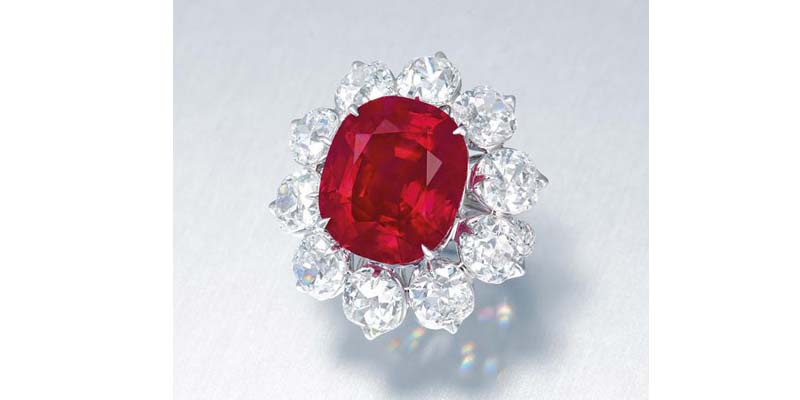 A rare 15-carat Burmese pigeon's blood ruby will lead Christie's Hong Kong December auction.
The stone—named 'Crimson Flame'—is estimated at $10 to $15 million US.
"Ruby appears to be a real star at Christie's Hong Kong jewellery auctions this year," says Vickie Sek, deputy chair and director of Christie's Asia jewellery department.
"Following on the record-breaking results achieved last spring by a fabulous Burmese ruby and diamond necklace by Etcetera, we will present the sensational 'Crimson Flame,' undoubtedly the most important pigeon's blood ruby to come to auction in Asia. Collectors will also be mesmerized by the exceptional selection of exquisite gems and jade."
Other highlights include:
• 'Mogok's Fiery Red' suite by Fai Dee, comprising a Burmese pigeon's blood ruby and diamond necklace (estimate: $6 to $8 million US) and earrings (estimate: $2.9 to $4.1 million US);
• a 7.53-carat fancy intense pink diamond and diamond ring (estimate: $5.8 to $8.3 million US);
• 'The Afghan Emerald,' an extremely rare 10.11-carat, no-oil emerald ring of flawless clarity (estimate: $1 to $1.5 million US); and
• a jadeite necklace with a diamond clasp by Cartier (estimate: $3.5 to $4.8 million US).
Christie's Hong Kong non-selling exhibitions series will feature Wallace Chan Dream Light Water, showcasing 30 of the designer's most intricate and technically challenging jewels, some of which have never been seen before. Chan will also debut his first illustrated monographic book.
The auction will be held Dec. 1.