Massive diamond unearthed by Canadian miner
November 11, 2020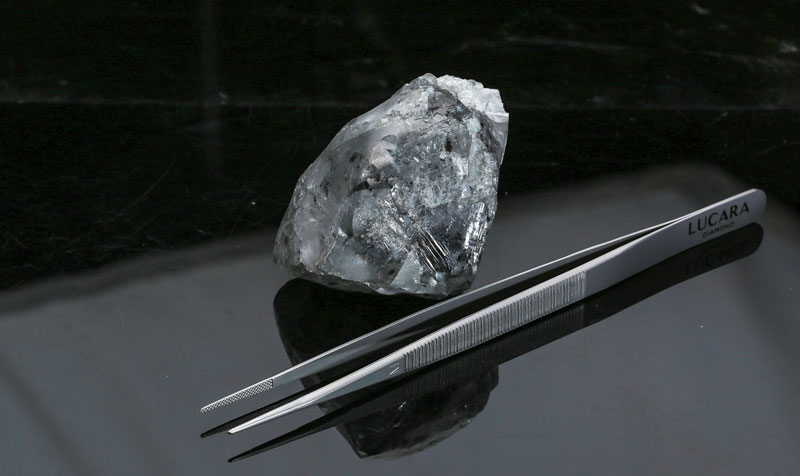 A remarkable diamond recovered in Botswana marks Lucara's second find larger than 500 carats achieved this year.
The Vancouver-based mining company has found an unbroken 998-carat white 'clivage' diamond at its Karowe Mine.
Measuring 67 x 49 x 45 mm, the stone was recovered from direct milling of ore sourced from the EM/PK(S) unit of the mines South Lobe, and follows a series of notable diamond recoveries during this recent production run, Lucara says. Year to date, the mine has produced 31 diamonds larger than 100 carats, including 10 greater than 200 carats.
"Lucara is extremely pleased with the continued recovery of large, high-quality diamonds from the South Lobe of the Karowe Mine," says the company's CEO, Eira Thomas.
"Operations at Karowe have continued through 2020 and operational challenges, due to COVID-19 restrictions, have been met with professionalism by the team. We look forward to a safe finish to 2020 and continued success at Karowe as we remain focused on strong operations to ensure maximum resource performance."
Earlier this year, Karowe produced[2] an unbroken 549-carat white diamond of exception purity. The stone, Sethunya, is set to be sold[3] by Louis Vuitton.
Endnotes:
[Image]: https://www.jewellerybusiness.com/wp-content/uploads/2020/11/SA_Lucara2.jpg
Karowe produced: https://www.jewellerybusiness.com/news/549-carat-diamond-recovered-by-canadian-miner/
set to be sold: https://www.jewellerybusiness.com/news/549-carat-diamond-finds-home-with-louis-vuitton/
Source URL: https://www.jewellerybusiness.com/news/massive-diamond-unearthed-by-canadian-miner/
---