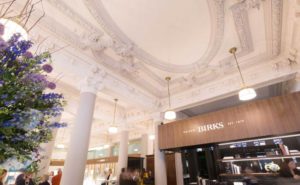 Strong retail and e-commerce performance are among the factors Birks Group says contributed to a net sales increase in the brand's mid-year results for fiscal year 2019. Over the 26-week period that ended September 29, the company achieved $68.7 million in net sales, an increase of $3.6 million from the previous period.
Birks also attributes the success to targeted marketing campaigns and the reopening of its Montréal flagship store this summer. The revenue created by the renovation bodes well for the brand's future, according to CEO Jean-Christophe Bédos, as two more remodelling projects are currently underway at its Vancouver and Toronto flagships. The major revamp focused on the Toronto location is expected to reach completion in the fourth quarter of fiscal year 2019.
Bédos says this success, as well as the period's overall results, were also significantly driven by Birks' investment in its five-year strategic plan.
"The results of the first half of fiscal 2019, as expected, are reflective of [the plan's execution] as we continue to invest in the core growth areas we have identified," he said. "We are pleased with the sales growth experienced during the period, especially the performance of the underlying retail business."
Gross profit margin for the period totalled $26.4 million (38.4 per cent of net sales), a decrease from the previous period's result of $26.1 million (40 per cent of net sales). Birks Group says this is most likely due to increased promotions (aimed at selling slow-moving inventory) and a product sales mix driven by growing third-party watch sales.
Growth was also reported for comparable store sales from continuing operations, which ramped up by four per cent compared to the previous period. The company suggests this is due to improved sales of its branded jewellery collections and bridal pieces, as well as third-party branded watches.
"We remain confident the execution of our strategic initiatives will lead to long-term value creation," said Bédos.