Now what?
In a tough diamond market that's been flat-lining over the past year or so, retailers need designers and manufacturers to deliver inspiring new collections that will attract consumers.
Most retailers consider the bridal sector their most stable revenue stream. Whatever the flux in diamond sales, striking bridal jewellery will always entice a couple making that big purchase.
Some trend forecasters encourage a revisit of palladium for bridal jewels since white remains the preferred metal for younger brides—it's got a heft that feels luxurious and pricey, but can be difficult to work with, according to some bench jewellers.
Considering the millennial demographic prefers white metal and are more pragmatic as a generation when it comes to spending on big ticket items, palladium should be offered.
Colour is becoming prominent in the bridal market as shown by manufacturer Tacori who recently launched their 'Something Blue' collection. The sentimental tradition of brides wearing something blue for good luck on their wedding day gets an updated nod by including sapphire gemstones together with diamonds in modern settings.
Retailers can encourage a couple to create their own special look as brides are now increasingly opting for unusual gemstones in their personalized ring. Offering romantic gemstones like morganite and kunzite, or exotics like tanzanite and zultanite, has allowed many retailers to upsell diamond semi-mounts with coloured centre stones at very attractive price points.
When customers prefer to stay with diamonds, but want something more modern, rose cuts and diamond slices are quite the attractive compromise.
Designers and manufacturers may be delivering less traditional collections today, retailers can help customers think outside the jewellery box by offering unique gemstone combinations to resonate with couples looking for a personalized experience.
Men's wedding bands show off the cool factor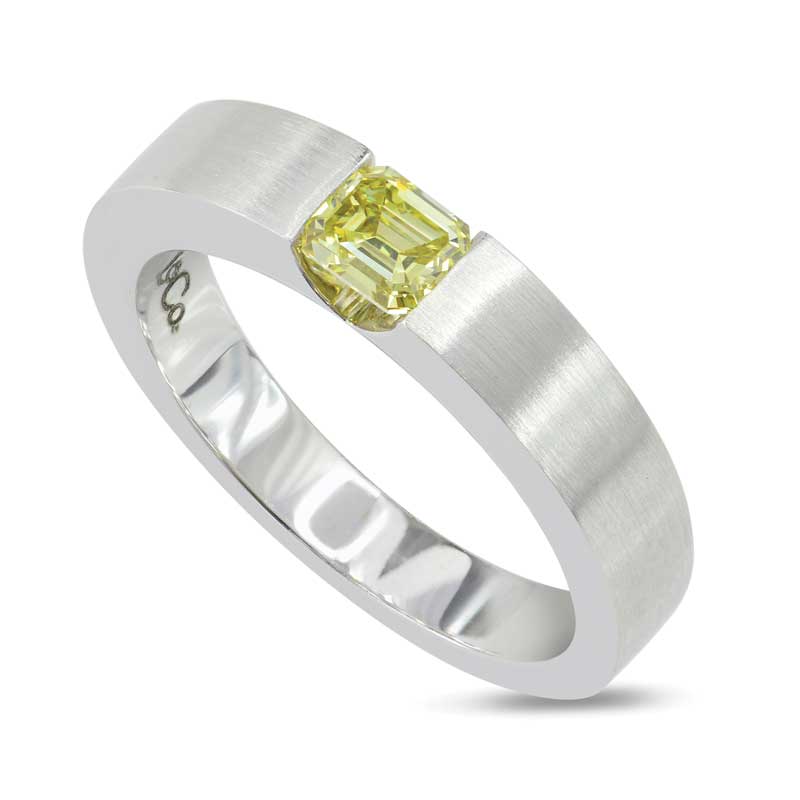 The history behind men's wedding bands doesn't stretch back as far as the story of the bride's engagement ring. Of course, traditionally, men did the proposing with a ring to their beloved. Not until the 20th century did the practice of men's wedding bands even come into vogue.
During both World Wars, soldiers began wearing wedding rings as a portable way of remembering their loved one back home. By the 1950s, men's wedding bands took on a sentimental value for the couple, morphing into a symbol of their union.  Thus, the concept of matching bands evolved.
At this juncture, men could choose a wedding band that matched with the bride's ring—or not.
While men have not historically enjoyed a variety of gemstone studded creations on their ring finger, their day has come. Modern men's wedding bands are also colourful, imaginative, and produced in a wider array of metal types than the bride's ring.
Designer Etienne Perret is celebrated for his innovative men's wedding bands. "The cool factor is very important to men," he says. Their requirements are very different from that of the female shopper. "Most men don't care if their ring is made of precious metals," says Perret. "They just want to wear it every day and not worry about it breaking."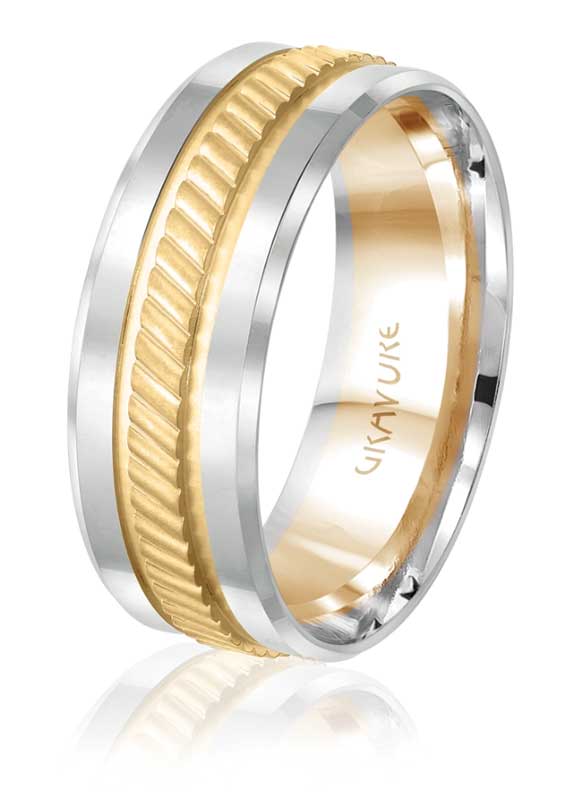 Men's wedding bands are not regarded as a status symbol like the bride's wedding jewellery, so they may choose alternative metals that are relatively low cost but high on style. Titanium is a popular men's wedding band choice due to its light weight and durability. Tungsten has many fans, too, as it is scratch resistant and four times as hard as titanium. But, it's also heavier.
Stainless steel and ceramic are innovative choices finding a new fan-base since they are low maintenance, and cobalt chrome is ideal for tension mount rings, according to Perret.
Richard Lewis at Leibish & Company finds men are enthusiastically embracing the many options available today, including the use of fancy coloured diamonds.
"It's surprising how the envelope has been pushed with what men are willing to wear," says Lewis. "Celebrities like David Beckham have made it 'cool' for men to adorn themselves with jewellery. With more masculine tastes, men often plumb the darker, cooler colours like deep grey, black, brown, or a deep green diamond. But we have also had a large number of men who like bright canary vivid yellow diamonds that match the stones their partners adore."
Whether choosing alternative or traditional metals, or even matching bands, the men's ring category offers more personalized options than ever.
Diana Jarrett is an award-winning trade journalist and graduate gemmologist (GG). A registered master valuer, Jarrett is a popular conference and trade show lecturer. She writes a syndicated column called "The Story Behind the Stone" for the Southern Jewelry News and Mid-American Jewelry News and is also a writer for magazines such as Life in Naples, New York Mineralogical Club Bulletin, and the gem trade blog, Color-n-Ice.