By Kate Hubley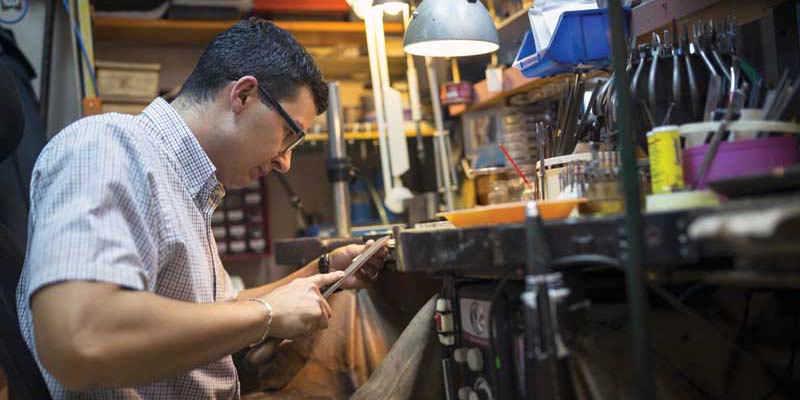 It was 18 months ago, 1:30 a.m. on a Saturday night. I just had a design breakthrough and did a little victory lap around my studio. After my moment of glee, I flopped back into my chair and stared down at my nails, ragged from a six-day marathon at the bench. My to-do list for Sunday was long: invoicing, preparing photos of my new work, a few hours of Photoshopping, updating my website, fixing my sandblaster, tending to my freelance advertising clients, and… oh yes, I have a family, too. I suddenly felt tired. Deflated.
Let's get down to business
Life at the bench is extremely rewarding for me. I fall into a trance as I file and solder, creating a miniature sculpture with tiny pieces of wax or gold. Despite my thousands of hours in the studio, countless classes a year to add new techniques to my arsenal, and becoming a Fellow of the Gemmological Association of Great Britain (FGA), my jewellery business was not my bread and butter.
Was I becoming a meme? The one where I ask the world to support me for my hard work and exploration because I am a jewellery artist? Perhaps it was time for me to look at my jewellery business as, well, a business!
I decided my best strategy would be to sell my creations to retailers. I would just show them my jewellery and they would fall in love with me and my designs. They would take care of all the selling and 
I would do all the designing and creating. The orders would start pouring in. Isn't that how it usually goes? No, actually, it isn't.
Letting go
One of the first things I needed to do was price out my pieces for wholesale. How could I make a living if I was 'giving away' 50 per cent to stores? I needed help with my numbers, so I reached out to an acquaintance whose family owns a chain of well-curated jewellery stores in Montreal. He didn't give me the magic pricing formula. Instead, he asked me a simple question that made me rethink everything: "What do you want to do, Kate, manufacture or distribute?"
This is probably the biggest existential question for a bench jeweller: do you want to make everything yourself or have help making the pieces, so you can focus on growing your business and building relationships with retailers? You have to answer honestly.