Working with a manufacturer
Can you deliver consistent quality on time? If not, this is a deal breaker. Part of my brand positioning is 'Made in Montreal. Made in Canada,' which means I need a local manufacturer. I also need to maintain an open dialogue with my manufacturer, establish standards and expectations, and accept I am ultimately responsible for the quality of my pieces. I learned this the hard way recently when I showed my work to a panel of buyers. After three seconds under the loupe, they pushed it aside like a bowl of cold porridge. It turns out my manufacturer's best polisher was on vacation right at crunch time. Now, I loupe everything, every time.
Pricing can be so daunting for designers. We are afraid of pricing ourselves out of the running or undervaluing our work. Believe me—you have to be spot on right out of the gate. Fear not, there are specific formulas and approaches to pricing for wholesale that make the exercise quite straightforward.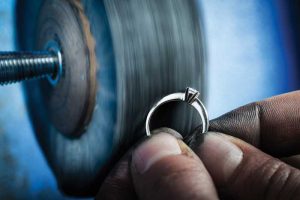 One method is to base your price on 'cost of goods,' which factors in materials, labour, packaging, and other expenses related to the production of the piece. Careful—your labour cost should be based on how much a manufacturer is going to charge you. Many designers will mark the cost of goods up by two or 2.5 times, then add applicable credit card and rep fees.
What about design and development expenditures (e.g. design time, prototypes, or moulds)? Generally, these costs do not factor into your wholesale price. Instead, you have to determine your breakeven point, which is the number of units you need to sell to recuperate this upfront investment.
And overhead? Depending on your business model, you can calculate a percentage and add it to your cost, but that can be finicky, especially if your price points and monthly production vary. The ideal is to focus on creating and promoting a great product available at an attractive wholesale price that sells so well you have the revenue to cover your overhead, pay staff, and give yourself a handsome salary. Because that's how business works.
Finally, retailers will mark your wholesale price up by two, 2.5, and sometimes three times. Once you have done your calculations, make sure your retail price is in line with what your end consumer would be willing to pay. "If your price is too high, modify your production to bring down your costs," Hill recommends.