Creating a 'feel-good' experience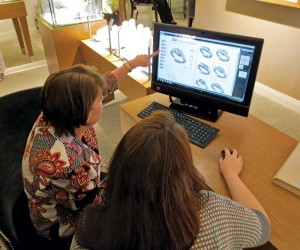 As independent jewellers, you are very unique. It is rare a consumer can walk into any store and commission a custom design using their own materials, such as diamonds and gold. We should be celebrating this very important fact, instead of trying to avoid it. I have to admit it is a lot easier to sell something out of the showcase. However, the pride we feel and the excitement the client displays when they see the special piece created especially for them is a wonderful experience. And I don't know about you, but I have kept 30 years' worth of cards and letters from my happy customers. They can be a real 'pick me up' when the day is not going well.
The first step to infusing emotion into your CAD sales pitch is to create an environment in which your customers feel at ease and unintimidated. Green Lake Jewelry Works in Seattle, Wash., only offers custom design. Its owner, Jim Tuttle, spent several months planning his store to ensure his clients were served in a cozy environment, regardless of its rather large size. So far, there's nothing unique about this story. Where it starts to get interesting is the fact there is a computer monitor atop practically every showcase where any one of 20 goldsmiths can work with a client to design a piece of jewellery. Clients are practically enveloped by technology and yet, they are neither overwhelmed by it nor feel it has taken away from the 'romance' attached to the experience of buying jewellery, particularly when it's a bridal piece. Uta, Jim's wife and business partner, says, "You can buy a 'stone holder' from a chain store, but come to us for a piece of art." And if clients need further inspiration, they need only look down at the hand-painted cement floor, complete with swirls reminiscent of hand-carving and other imagery that get the creative juices flowing.
Unless you are ready to renovate your store to the same degree, you can start on a much smaller scale by investing in a single design station. Amanda Lanteigne, from Gold-N-Memories in Steinbach, Man., has been designing jewellery for her clients for many years using software. To create more buzz around this service, she purchased a 6-ft custom-built work station with big-screen monitor, bar stools, and more than 135 alloy and CZ prototypes. She also positioned it near the entrance to ensure mall patrons could see it while walking toward the store from either side. As many of the prototypes are engagement styles, the bridal client is able to get the 'touch and feel' experience while working with Amanda and her staff to create their own design. And if you think prototypes are primarily a safety precaution against theft, you might want to point out to bridal clients—particularly brides—that the piece they buy has never been tried on by anyone else.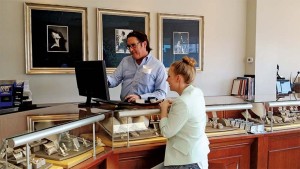 Jon VandenBosche of VandenBosche Custom Jewellers in Aurora, Ont., has a very small store. Although he recently renovated the space, there was no room for a design area. When he needs to design a custom piece, out come the wireless keyboard and mouse. He and the client stand at the counter—the client is fully engaged with helping create that special piece, even handling the mouse themselves and putting their fingerprint on the design. This intimate setting goes a long way to creating a memorable CAD experience.
Tom Linenberger of Goldworks in Fort Collins, Colo., has been using a 3D program for a number of years. When he's done designing a custom piece, he names it for the client and plays up its romantic aspect with statements such as, "Two pieces of metal intertwined to symbolize your love." He also makes sure he adds a design element to the jewellery that is special to the client. And since Tom designs, casts, and finishes the piece himself, he invites the customer to be part of the process—they can watch it being cast when the wax is ready and they'll even get to melt the gold themselves. As a keepsake, Tom photographs every step involved in making the jewellery and presents the customer with a small album. That way, they can fully appreciate how much work went into designing and finishing the piece and feel they got very good value for what they paid. Couples pay thousands to photograph their wedding day—you can be part of their experience with very little cost on your part. And just imagine how many of the couple's friends and family will get to see your work. You just can't beat that kind of advertising.