Canada bound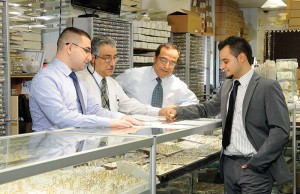 The company's dedication to customer service is something it has embraced since opening its doors 30 years ago, although the family-owned business had its beginnings years before that and on a different continent. Brothers Garabet, Ohannes, and Paravon 'Paul' didn't grow up learning the trade from their father, although he was instrumental in their eventual career choice.
Born in Istanbul, Turkey, and of Armenian descent, the trio lost their mother, Mary, as children, and were raised by their father and stepmother. Taking his young sons to a nearby jeweller, Levon asked that they apprentice with him.
"Bone is mine, meat is yours," Paul recalls his father saying to the jeweller who agreed to teach the brothers to work metal and set stones.
They eventually set up their own manufacturing unit in Istanbul, Ohannes and Paul setting rose-cut diamonds in designs fashioned by Garabet, the goldsmith in the family. Ten years later, the brothers faced a major dilemma—either open their own retail store, which required significant capital, or leave Turkey for Canada and start up another jewellery business. The latter won out, and the brothers signed up for English language courses. Next came dealing with Canada's immigration department. "We told them, 'Either you accept three brothers as immigrants or none of us will come,'" Paul says. "They said they needed all three of us and we moved."
With a better command of the language, Ohannes—the middle brother—was first to leave Turkey. Although he arrived in Montreal, he didn't stay long. Not knowing to speak French presented a major stumbling block to setting up a business, and he soon found himself in Toronto. A phone call home to his brothers with news of a lapidary for sale prompted Garabet and Paul to pull up stakes for Toronto in 1982. They re-named the company in honour of their mother, establishing a wholesale business that has grown from 190 sf to 2500 sf, 11 employees (not counting the brothers), the addition of a nearby facility for storage and casting, and clients across the country. In addition to selling everything from gold and silver jewellery to offering laser and diamond-tip engraving, the Camgozlu family also owns AKB Armandor, a manufacturing unit that produces gold and silver charms.