In the 'brand' scheme of things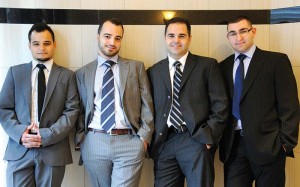 Although Canadian consumers have traditionally leaned toward generic jewellery, there is growing preference for branded product, the result of an influx of U.S. companies banking on a strong Canadian dollar. Coupled with the high cost of precious metals and other materials, it's easy to see why consumers are changing their shopping habits. After all, if you're going to invest in a pricey piece of jewellery, a brand-name product has cachet, albeit at a higher cost.
While Apel doesn't dispute the strength of brands in Canada, particularly in large cities like Toronto, he is quick to point out price point is still a concern, and generic jewellery wins out a lot of the time.
"If we sold only in Toronto, maybe we wouldn't be able to survive, but when you go to the Mom and Pop shops outside the big cities, there is no market for those brands," Apel says. "The reason we do well with generic jewellery is because we sell to the whole Canadian industry, not just the major cities"¦ There will always be demand for generic jewellery. If you're going to buy a cross for a child's baptism, will you be looking for a brand-name product? Not likely."
Pandora Jewelry's popularity explosion in the last five years or so spurred the battle for bead supremacy, with many companies looking to get a piece of the action, Mary Jewellery included. Rather than picking up a brand name, however, the company began offering a generic line of beads. Not only did it appeal to retailers who might be wary about undertaking a commitment to a brand, but it filled a consumer need.
"If someone wants a brand-name product, they will buy it no matter what," Apel says. "We decided to provide an option for someone who doesn't care about the name and just wants the look and style of the product."
There's no denying the millions of dollars A-list brands invest in marketing propels them to be top of mind among consumers. Think the allure of Tiffany & Co.'s robin egg blue-coloured box and a happy bride-to-be admiring the six-prong solitaire she's dreamt of since childhood. Brands have their place, but so does delivering quality customer service.
"Brands are not untouchable," Paul states. "We don't believe in spending $100,000 in inventory and $800,000 on marketing. Mary Jewellery is our brand. What is important is that our client is happy when they leave our office. If we have to drive a set of rings to Montreal, we'll do it because it's a matter of having respect for our customer. This doesn't mean every customer is happy with us, but we try our best."