Mary Jewellery & Lapidary Co.: Cornering the generic jewellery market
February 1, 2013
By Jacquie De Almeida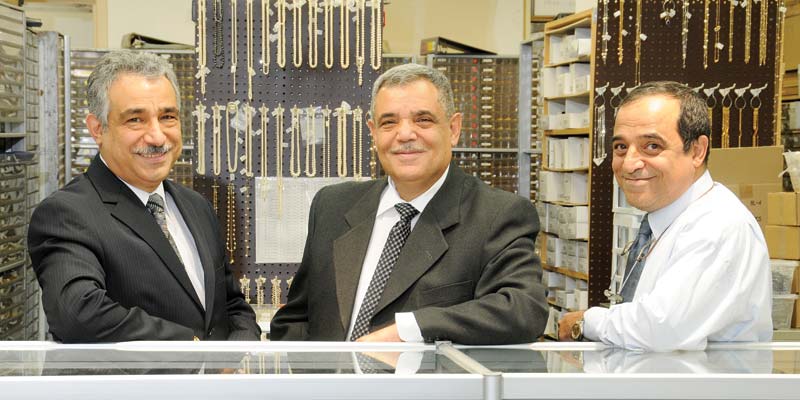 Apel Camgozlu is okay being a 'wedding crasher.'
Not in the sense he surreptitiously mingles among invited guests like Owen Wilson and Vince Vaughn did in the Hollywood flick of the same name.
Instead, Apel has been known to hand-deliver wedding bands to his clients, even driving to Niagara Falls when a supplier failed to get a pair of rings to Toronto in time for the big day. A five-hour round trip on a Saturday afternoon averted disaster, and the happy couple were able to exchange their vows.
Apel is quick to say he and the rest of the team at Mary Jewellery & Lapidary Co., are just doing their jobs. There's nothing special about this story, he says, or any of the other times he's made similar road trips. It's likely the couples would disagree, and so would the retailers who were able to keep their customers happy.
"We do whatever we can, whatever is in our ability to do," says Apel, whose father and uncles co-own Mary Jewellery. "You do as much as you can and hope your clients appreciate it."
Canada bound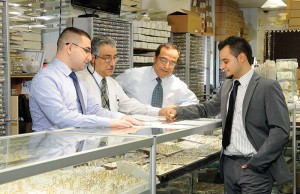 The company's dedication to customer service is something it has embraced since opening its doors 30 years ago, although the family-owned business had its beginnings years before that and on a different continent. Brothers Garabet, Ohannes, and Paravon 'Paul' didn't grow up learning the trade from their father, although he was instrumental in their eventual career choice.
Born in Istanbul, Turkey, and of Armenian descent, the trio lost their mother, Mary, as children, and were raised by their father and stepmother. Taking his young sons to a nearby jeweller, Levon asked that they apprentice with him.
"Bone is mine, meat is yours," Paul recalls his father saying to the jeweller who agreed to teach the brothers to work metal and set stones.
They eventually set up their own manufacturing unit in Istanbul, Ohannes and Paul setting rose-cut diamonds in designs fashioned by Garabet, the goldsmith in the family. Ten years later, the brothers faced a major dilemma—either open their own retail store, which required significant capital, or leave Turkey for Canada and start up another jewellery business. The latter won out, and the brothers signed up for English language courses. Next came dealing with Canada's immigration department. "We told them, 'Either you accept three brothers as immigrants or none of us will come,'" Paul says. "They said they needed all three of us and we moved."
With a better command of the language, Ohannes—the middle brother—was first to leave Turkey. Although he arrived in Montreal, he didn't stay long. Not knowing to speak French presented a major stumbling block to setting up a business, and he soon found himself in Toronto. A phone call home to his brothers with news of a lapidary for sale prompted Garabet and Paul to pull up stakes for Toronto in 1982. They re-named the company in honour of their mother, establishing a wholesale business that has grown from 190 sf to 2500 sf, 11 employees (not counting the brothers), the addition of a nearby facility for storage and casting, and clients across the country. In addition to selling everything from gold and silver jewellery to offering laser and diamond-tip engraving, the Camgozlu family also owns AKB Armandor, a manufacturing unit that produces gold and silver charms.
In the 'brand' scheme of things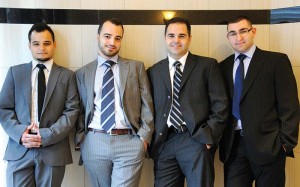 Although Canadian consumers have traditionally leaned toward generic jewellery, there is growing preference for branded product, the result of an influx of U.S. companies banking on a strong Canadian dollar. Coupled with the high cost of precious metals and other materials, it's easy to see why consumers are changing their shopping habits. After all, if you're going to invest in a pricey piece of jewellery, a brand-name product has cachet, albeit at a higher cost.
While Apel doesn't dispute the strength of brands in Canada, particularly in large cities like Toronto, he is quick to point out price point is still a concern, and generic jewellery wins out a lot of the time.
"If we sold only in Toronto, maybe we wouldn't be able to survive, but when you go to the Mom and Pop shops outside the big cities, there is no market for those brands," Apel says. "The reason we do well with generic jewellery is because we sell to the whole Canadian industry, not just the major cities"¦ There will always be demand for generic jewellery. If you're going to buy a cross for a child's baptism, will you be looking for a brand-name product? Not likely."
Pandora Jewelry's popularity explosion in the last five years or so spurred the battle for bead supremacy, with many companies looking to get a piece of the action, Mary Jewellery included. Rather than picking up a brand name, however, the company began offering a generic line of beads. Not only did it appeal to retailers who might be wary about undertaking a commitment to a brand, but it filled a consumer need.
"If someone wants a brand-name product, they will buy it no matter what," Apel says. "We decided to provide an option for someone who doesn't care about the name and just wants the look and style of the product."
There's no denying the millions of dollars A-list brands invest in marketing propels them to be top of mind among consumers. Think the allure of Tiffany & Co.'s robin egg blue-coloured box and a happy bride-to-be admiring the six-prong solitaire she's dreamt of since childhood. Brands have their place, but so does delivering quality customer service.
"Brands are not untouchable," Paul states. "We don't believe in spending $100,000 in inventory and $800,000 on marketing. Mary Jewellery is our brand. What is important is that our client is happy when they leave our office. If we have to drive a set of rings to Montreal, we'll do it because it's a matter of having respect for our customer. This doesn't mean every customer is happy with us, but we try our best."
Stock in trade
Yet, before anyone can enjoy their purchase, the retailer has to be able to rely on its supplier delivering the goods. Today's consumer demands instant gratification—if they can't get what they want from one retailer, they'll simply move on to another. Retailers and their suppliers are partners in each other's success, a lesson Mary Jewellery is well aware of and works to meet with every sale. That means offering tens of thousands of SKUs and ensuring its clients don't have to look elsewhere to get what they need.
With so much inventory to track and more than 200 manufacturers helping to fill orders, Mary Jewellery uses customized software designed to accommodate the intricacies of its operation. Orders are entered and filed electronically with the supplier, and the system generates a confirmation notice that is e-mailed to the retailer.
"We strive to have everything in stock and ready to go for our clients," Apel says. "A client might call a company for a particular piece and they say they can get it for them in three weeks. That's not acceptable these days. We might charge a little more, but we'll have it in stock. If you don't have a particular product, you can't sell it. It's as simple as that."
While some wholesalers may feel concentrating on a specific product, say gold jewellery, is the way to go, Mary Jewellery embraces a 'one-stop-shop' philosophy, an approach to business its busy clients appreciate, especially since time always seems to be in short supply. After all, why make several stops to purchase supplies and inventory when you can get everything you need in one place? "We want to be the go-to place where they can get everything done," Apel explains. "They can save time and go back to the store and work."
Deal breaker
Times have changed in the jewellery industry. Where a handshake once sealed a deal, binding two parties to an agreement, tougher economic conditions have helped take the shine off this way of doing business.
Apel says honesty and respect are two values Mary Jewellery strives to maintain in every interaction. "If you're not honest, you're not going to last very long in this industry," he explains. "If you're going to be a bad apple, you have to be the best of the bad apples, which means you have to be the worst and that's just not in our nature. There's no such thing as a handshake anymore; everything has to be documented."
Paul agrees, adding it's a two-way street. "My customers must be honest with me, and I have to be honest with my suppliers. I didn't go to business school, but I know that if you want to be successful, you have to be honest and work hard."
In an ever-churning sea of brands and millions of marketing dollars backing them up, it would seem Mary Jewellery's hard work has paid off.
Endnotes:
[Image]: http://www.jewellerybusiness.com/wp-content/uploads/2013/02/MJL6748.jpg
[Image]: http://www.jewellerybusiness.com/wp-content/uploads/2013/02/MJL6669.jpg
[Image]: http://www.jewellerybusiness.com/wp-content/uploads/2013/02/MJL6850.jpg
Source URL: https://www.jewellerybusiness.com/features/mary-jewellery-lapidary-co-cornering-the-generic-jewellery-market/
---