By Cynthia Unninayar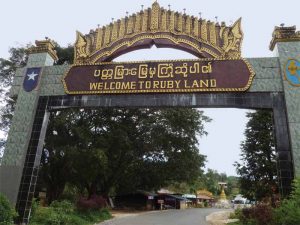 Rudyard Kipling's famous poem, "Mandalay," evokes a sense of nostalgia for the adventure and exoticism Asia might have promised a British soldier. When I joined a small group of gem dealers and researchers embarking on an adventure of my own to Mandalay and the magical mining area of Mogok in Myanmar, I couldn't help but share in its sentiments.
Historical significance
As part of an expansion into Asia, and with a keen interest in the rubies coming out of this region, the British conquered Burma after three Anglo-Burmese wars in the 19th century. The country gained independence in 1948, initially as a democratic nation, but following a coup d'état in 1962, Burma became a military dictatorship. For the next five decades, it endured oppressive military rule, ethnic strife, civil wars, and unrest.
In 2003, to put pressure on the military junta, the U.S. government initiated a trade embargo on all Burmese gemstones. There was a loophole, however. Stones faceted in another country (generally Thailand) could be imported into the United States as products of that country.
New legislation in 2008 closed this loophole and prohibited all Burmese ruby and jadeite from entering the United States. These gems were also banned by the European Union (EU). Other stones, including famed Burmese sapphires, were not included in the new law.
Despite the embargo by the EU and United States, the Burmese junta continued to sell gems to China (Myanmar's largest trading partner) and India, among other nations. According to industry watchers, the ban mainly hurt small artisanal miners and gem traders who sold stones to Thailand's gem merchants, while it reinforced the power of the large industry players and the military.
In 2012, the United States normalized its relations with Myanmar, and it removed the embargo on many Burmese products. The ban on ruby and jadeite still remained, however, because of serious concerns about the junta's continuing involvement in human rights abuses and the revenue it generated from the jadeite and ruby trade. In October 2016, this ban was also lifted.