A spiritual connection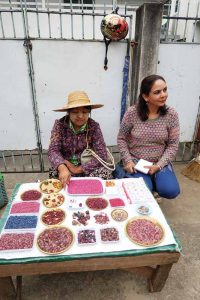 In Myanmar, 88 per cent of the population are practicing Buddhists, and since gemstones are a major part of life in Mogok, they are often used as offerings and decoration in the many pagodas and monasteries dotting the landscape. Perhaps the most extraordinary example of the link between gems and religion can be found in the beautiful Phaung Daw Oo Pagoda, which features an impressive white marble Buddha and two sacred gilded Buddhas surrounded by intricate patterns of mirrored walls and columns. The pagoda also houses two incredible gold and silver plinths, encrusted with thousands of gemstones of all types and qualities. Once a year, the two gilded statues are placed on remarkable gem-covered bases for public viewing.
My group also visited the large Chanthargyi Pagoda on the other side of the manmade lake in the centre of town. Along with beautiful statues and elaborate mirrored walls, the pagoda houses an elaborate collection of precious gemstones and art objects of all sorts, all donated by the local population.
Markets
Trading gems in Mogok has two basic formats. In the morning, several local markets open around the city, usually along roadsides or on designated streets. Buyers walk around and view gems laid out on small tables or even on the ground. Most sellers are women who come with traditional bronze plates and other trays full of rough and polished gemstones, fossils, old coins, and other objects. 
We visited the Cinema Market. Comments from the gem dealers in our group indicated prices were high and a small number of fakes were seen, complete with fraudulent certificates. Yet, some group members did buy a few quality pieces.
The second type of gem market is held in the afternoon, with dozens of tables sheltered by umbrellas. Here, buyers don't walk around, but rather sit at a table and the sellers come to them. We spent an afternoon at the Blue Umbrella Market in central Mogok, one of the city's largest. As soon as we sat down, dozens of sellers approached us, eagerly showing their stones. Most were either too expensive or of poor quality, although some good deals were made.
The local population uses lower-quality gemstones to make artisanal products, including a wide variety of paintings made from crushed gems of all colours. These are on sale at many of the gem houses in Mogok.