Mines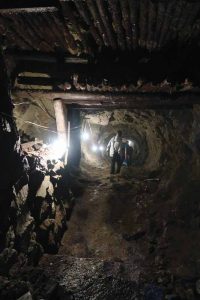 Mines of all sizes mark the landscape in the greater Mogok area. Peridot is mined in the Shan Hills around Bernardmyo, northwest of Mogok. Named after Sir Charles Bernard, British Commissioner of Upper Burma, the town sits at an altitude of 2000 m (6560 ft) and was established as a military sanatorium and station following the Third Burma War (circa 1887). The British abandoned it around 1900.
A few kilometres from Bernardmyo is the Nanda Aung peridot mine. Gem material is brought out of the mine through narrow tunnels, and is then transported elsewhere for washing and sorting.
The largest sapphire mine in Mogok is Baw Mar. Opened in 1993, it combines both open-pit mining and tunnelling. Over the last decade, it has produced some exceptional gems, up to 10 to 15 carats. The mine's largest stone was 2000 carats, but it was so dark it had to be broken apart to find lighter colours. During the rainy season, the mine employs around 80 people, while in the dry season, more than 180 miners are at work. It has its own sorting and cutting facilities.
The owner of Baw Mar, Ye Minn Htoon, called Ko Choo, also owns a ruby mine nearby and manages gem auctions, which are held every three months for two days to allow buyers to examine the gems and submit written bids.
The largest ruby mine in Mogok is the privately owned Yadana Shin mine. With eight shafts, it employs 10 people per shaft, with three shifts a day. The holes are around 300 m (984 ft) deep, and the only way to get to the bottom is to climb. It takes a miner about an hour to make the descent and ascent on narrow vertical wooden ladders. The gem material is brought to the surface in rubber pails via pulleys. It is then crushed, washed, and sorted. The employees are paid by salary, by receiving a percentage of the sales of rubies, or by a combination of both.
Another large mechanized mine is Ruby Dragon, a joint venture with the government's Ministry of Mines. It has a complex tunnel system at varying depths, but rubies are found at around 90 m (295 ft). The largest ruby found here was a 315-carat stone that sold for €570 million.
Indeed, Kipling's poem was an apt reminder of the wonderful adventure our group enjoyed on this trip, made even more memorable by the kindness of our Burmese hosts and the people we met on the road to Mandalay and Mogok.
A 20-year veteran of the jewellery and watch industry, Cynthia Unninayar travels the world reporting on the latest trends, promising new designers, global brands, and market conditions. Her interviews with some of the industry's top players offer insight into what's new and what's happening on the global jewellery stage. Unninayar can be reached via e-mail at cynthiau@gmail.com.