Gemstone haven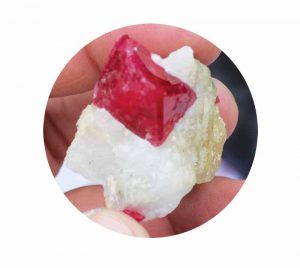 After visiting the remarkable jade pagoda in Mandalay, my group began a six-hour, 200-km (124-mi) journey to Mogok. The road was narrow, and it wound through lush, jungle-covered mountains. Finally, we reached 'Ruby Land' and the bustling town of Mogok, nestled in the picturesque region of Upper Burma.
The gemstones in this area are found mainly in the Mogok Stone Tract at an elevation of 1170 m (3837 ft). This area is an important source of rubies as well as other gems, including sapphire, spinel, peridot, zircon, topaz, and garnet.
Rubies from Mogok have been prized throughout history; unheated gems in the coveted pigeon-blood-red colour range are among the most expensive in the world. The celebrated royal blue sapphires also come from this area.
Until the 19th century, mines were under the control of various Burmese rulers, with hardly any independent mining. In 1886, the British took control of the Mogok Stone Tract region and tried to mechanize operations. Ironically, some of the richest deposits were under Mogok, which lead to the relocation of the town.
In 1929, intense rains flooded the mines, and the resultant lake can be seen today in the centre of the small city. After gaining independence in 1948, the Burmese government continued to control the mines, and in 1969, the Ministry of Mines banned private exploration and mining, effectively nationalizing the entire gem trade.
Beginning in 2000, the government undertook joint ventures with private companies to mine gems on a profit-sharing basis. Currently, an estimated 1000 to 1200 gemstone mines operate in the Mogok Stone Tract. These include artisanal miners, co-operatives, semi-mechanized operations, and large-scale companies utilizing modern exploration and excavation techniques. Methods range from using open pits in secondary alluvial marble gravel (locally called byon) to tunnelling in primary host rock.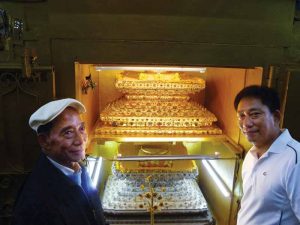 Today, Mogok gemstone deposits are declining, especially alluvial deposits. This is leading toward more mechanization and drilling in the primary marble host rock.
One longstanding component of mining in Mogok is the custom of kanasé ma. After the sorting operations, some missed gems end up in the tailings. Local custom dictates tailings may be searched by anyone, who may then keep the gems they find. Most of these kanasé ma miners are women who break up the waste rock to find gems, thus providing a source of small stones for local markets.