Happy birthday to you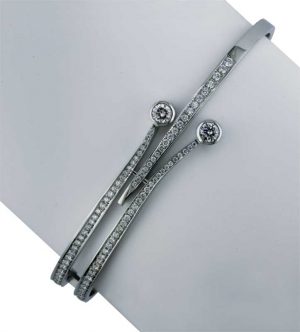 When there is clear design inspiration, projects tend to be easier to tackle; however, as the designer, your job is to figure out how to make it possible. A few years ago, my clients welcomed their first child and named her Calla. To celebrate, they commissioned a piece of jewellery in the shape of a slightly abstracted flower. Formed in soft sheet wax, we cast the pendant in white gold. Since Calla was born in June, I used an elongated freshwater pearl as the spadix and added a sweep of pavé-set diamonds (the mother's birthstone) to accent the piece. The same couple has just had their second daughter, named Ivy, and I am currently designing a pair of earrings featuring a wreath of ivy leaves (this time using CAD to simplify making the book-matched pair) that will be accented with small emeralds to celebrate her May birth. Again, a few small diamonds set in the earrings will acknowledge the mother.
To celebrate his wife's 40th birthday, another client commissioned a hinged bangle bracelet. The birthdate inspired a variation on a style I have used frequently: a single arm on one side hinged between two similar arms on the other. The bracelet is clasped by the spring tension of the single arm into a bar on the underside. To signify her birthdate, Feb. 21, 1974, we bezel-set two round diamonds as terminals on the double side, pavé-set 74 diamonds on the arms, and set 21 diamonds on the single arm.