The inside story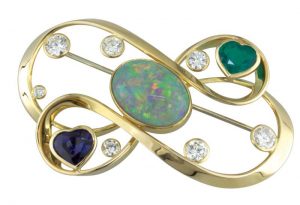 Narrative is another important source of inspiration. Some of my most interesting designs tell a story, whether a client's real-life experience or fantasy.
One of my best clients was, tragically, diagnosed with terminal cancer. Historically, he had always given me very specific guidelines for the pieces he commissioned, and this job was no different, particularly as it would be meant to celebrate his seventh anniversary. He was very determined the piece tell the story of their relationship, rather than be his 'final' gift to his wife, although it turned out to be just that.
He requested the following: a gem representing them as a couple, a gem for each of them, and seven gems to indicate their years of married life. Initially, I considered less valuable colourful gems, such as tourmaline or garnet, but when he told me his starting budget, I realized I had to up my game. Fortunately, one of my top gem suppliers had a fabulous crystal opal with all the colours of the spectrum. He also had a stunning heart-shape blue sapphire, which was symbolic of my client, an avid fisherman who funded waterway conservation. Next, I had to find a gem for his wife. By fluke, another supplier had a great emerald that was also heart-shape and nearly the same size and proportions as the sapphire. My client's wife loves the outdoors, so it was the perfect choice. I bezel-set the coloured gems into a double-infinity brooch (also to signify their bond of love) and finished the piece with seven diamonds, the smallest being .07 carats. Each succeeding stone was a multiple of seven, with the largest stone ending at .49 carats. The story was told and he was able to present the gift on their anniversary. She treasures it still.